Sing it, Mama
Our Q&A with Julie Johnson, a.k.a. "Mama" in "Memphis"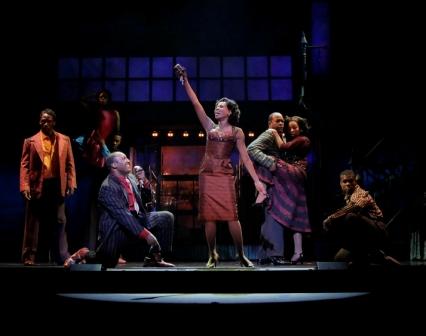 Talk about versatility. Julie Johnson, who plays "Mama" in the touring company of Memphis, has also played Patsy Cline in eight productions of A Closer Walk with Patsy Cline and Magenta in The Rocky Horror Show, and she's the voice of Baby Bop on Barney and Friends. Oh, and she's appeared on As The World Turns and appeared at Carnegie Hall with Skitch Henderson.
Johnson brings her big voice and considerable talent to Charlotte when she comes to town Jan 3-8 with the rest of the touring company in the Tony-winning musical. She dialed in from Toronto to tell us about her role in the hit touring company of Memphis.
She said the writer, Joe DiPietro, spent a lot of time in Memphis while writing the play to get a feel for that flawed, fabled city. He was very diligent in his research. Her character's first name is Gladys, which may or may not be a tribute to Elvis Presley's mama, Gladys. The two main characters' last names are Calhoun and Farrell, and she notes there's a hardware store in Memphis called Calhoun Farrell. People who know Memphis, the city, will recognize a lot of small touches like that in Memphis, the musical.
Here's more of our conversation.
Revue: What role does Mama play in the storyline?
Julie Johnson: Well, I'm thrilled to be Mama, who's also called Gladys. She's really the only character who has a total change of heart, mind, and spirit. I grew up in a small town in Texas around people who feared change. Much of my ancestry — six generations back — is from Tennessee. Mama's the same way. She has prejudices that so many white people of that generation did. I like to say that she's basically a good woman who was taught wrong. She sees the world changing around her, and she's fearful and is determined not to change. By the second act, she sings a big song called, "Change Don't Come Easy," which is the story of how she is changing.
She loves her son, who loves this new music and has fallen for an African-American singer he is just gaga about. She realizes, like a lot of parents do, that she can either cut her son out of her life or love him and see him through this. She realizes that young people have some pretty good ideas.
Revue: You may have just answered my next question, which is: What's your favorite musical number you get to sing? I'll bet it's "Change Don't Come Easy."
JJ: Yes, it is. But, there are so many fantastic songs. David Bryan, the keyboard player and writer for Bon Jovi all these years, and Joe wrote some amazing music. This is not a jukebox musical. It's not full of old hits. It's all new music, but all the songs could've been rock and roll hits back in the 1950s and early '60s. And, all the songs help promote the plot. You don't just stop to sing.
Revue: Did you see the original show on Broadway?
JJ: I've seen it twice, but I had not seen it when I auditioned for it. I've been in New York for awhile, but at the time, I was back in my little hometown in Texas that has a population of 1,700 people. My son, who's thirteen, is in school there, but now he's on the road with me. I'm home-schooling him, he's going around with me all over the country and Toronto. We're home schooling and seeing the country, and you can't do better than that.
Revue: What will you do differently from the actress who originated the role? Is there anything you'll do that's like she did it?
JJ: Cass Morgan originated the role, and I've worked with her before in Das Barbecu, Wagner's "Ring" cycle set in Texas. I got some really nice opportunities through that show.That's when I first worked with Christopher Ashley, who's the director of this show. When they were casting the Memphis tour, they were not finding their Mama. Someone apparently said, "Where's Julie Johnson?" And, someone else said, "Find her." I was doing Cabaret in Dallas, and unable to leave to audition. So I sent a video, and they cast me from the video.
I adore Cass, and I'm not comparing myself to her in any way, shape, or form. I think the only difference in the way we approach the role is that we each bring our own personalities to it. The differences are in personality only. That's what you bring to a role, anyway. You bring as much of yourself as you can, even if you're playing a mass murderer. You always have to bring something of yourself to the role.
Unless the producer or director says, "We want you to play the role exactly as it was played in the original," actors usually get to make the role their own. But, sometimes it happens. The Phantom comes to mind. They want that show to be exactly as it was originally, I believe, and that's certainly their right. But, Chris was wonderful in directing this version. He lets everyone do their own take on their role. The people doing the show on Broadway are doing a fantastic job, but we're also bringing our own life and our own spirit to the touring version. Chris wants us to take on the roles as if it's the first time they've been taken on.
There is one little thing Cass does in the show — it's a certain way she sits at that kitchen table that is so typical of a woman, alone in her own home after a long day, that looks so much like the way my grandmother would sit — and I just thought, "I have to sit exactly that way." It's not very ladylike, but it just kicks the whole character off. I thought, "You can't improve on that."
Revue: OK. I've got a mental image. Great description! Now, how do you describe the musical to someone who's never seen it?
JJ: It tells a story — and a uniquely American story — about the way we've grown and changed. It didn't just happen in Memphis. It didn't just happen in the South, as far as relationships between blacks and whites. And, it's a story of how music — gospel, the blues on Beale Street — changed people and brought them together. Literally. This journey was started by young people in the 1950s and '60s, and it's still not over. My character's son, Huey Calhoun, is a Memphis deejay who loves the music he's hearing and wants to share it with people.
Revue: Is it based on a true story?
JJ: Huey's character is loosely based on a Memphis deejay, Dewey Phillips, who was the first deejay to put an Elvis platter on a turntable. Back then, deejays would tell audiences what local high school Elvis went to, which was a way of telling their audiences that this was white singer. Dewey was one of the first in the country to put black artists on the air on a white radio station. But, the rest of the story — the love story — is fictionalized in order to have a story with a good message.
The Huey character is a lot like Dewey, though. They both go 90 miles an hour. Today, we'd call it ADHD, but back then, they just called it an AM radio deejay. Dewey got his own TV show — like American Bandstand — and Huey in our show gets a show, too.
Revue: It sounds like this show could have only been set in Memphis.
JJ: Oh, yes. Exactly. Memphis becomes almost a character in the show. And, Beale Street, too. At the time the play was set, there was a city ordinance that said blacks could only do business in certain areas. They couldn't be on Beale Street. Whites could go to Beale Street, but it wasn't recommended. White teens started going to Beale Street to hear their favorite singers after Dewey Phillips started playing those singers. Memphis was really good about featuring their own. They didn't have to look nationally for talent; it was in their own backyard.
Johnson will be with the show through Sept 2012. Look for her as "Mama," and look for her son selling programs and other merch in the lobby.