Singles Masquerade, Cooking in the Dark, Bud Light Summer Jam, John Legend After-Party, and More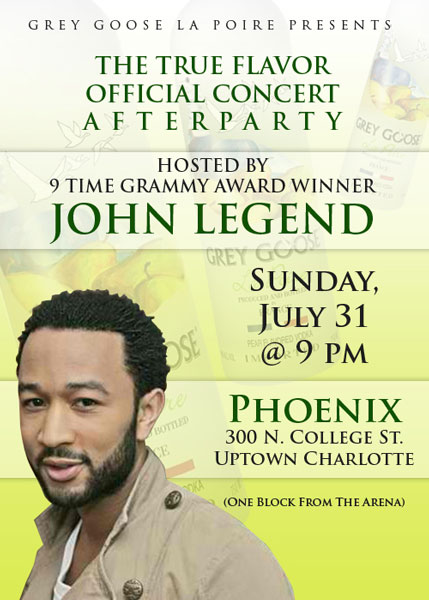 There are a lot of great parties and social events going on over the next few days. After narrowing down the list, I realized that I've gone to each of these venues and in most cases have attended an event put on by the particular event planner/promoter. Just trying to look out for you—if the party ends up being wack, let me know.
Thursday, July 28
Singles Masquerade Event
Recently launched, The Bachelorette Club has been getting busy with hosting events for the unattached. This event is for singles only and a mask is required for entry (organizers will have masks for you at the door or you can bring your own). Enjoy food, drinks, and the chance to win prizes. 9 p.m. $10; bring two friends and get in free. Loft 1523, 1523 Elizabeth Ave., thebacheloretteclub.com.
Thursday Night Jazz
The weekly jazz event put on by Jazz Diva Entertainment that I told you about a few months ago has continued to go strong. There are great food and drink specials (half-price wine) and the place usually fills up. This week's entertainment is by The Destiny Brothers. 8:30-11:30 p.m. Free. Bull & Barrister Draft House and Grille, inside Callabridge Commons Shopping Center, 3615 Mount Holly-Huntersville Rd., bullandbarrister.com, thejazzlifestyle.com.
Friday, July 29
Bud Light Summer Jam
Friday Live at the Factory returns for a special summer edition, billed as the Bud Light Summer Jam. A concert by Simplified and an appearance by actor/comedian/stuntman Steve-O highlight this event (Steve-O is headlining at the Comedy Zone Thursday through Saturday). For the first hour, organizers will be giving away a pair of tickets to the upcoming Kings of Leon concert every minute. 7-11 p.m. $5 general admission in advance; $25 VIP. Front courtyard at NC Music Factory, 935 N. Graham St., ncmusicfactory.com.
Cooking in the Dark
This event could've been snatched right out of a scene from a rom-com. Chef Tom Condron is leading this cooking class and the topic is "Gifts from the Farmer's Market." You'll learn how to use the fresh ingredients from local markets, and you'll watch Condron prepare four courses and then enjoy eating each of them. Each course is also paired with wine by wine professional James Corbin. 7 p.m. $45 per person; call 704-332-8830 to reserve. The Liberty, 1812 South Blvd., thelibertycharlotte.com.
Late Movie Fridays
This monthly event launched in May and has drawn fun crowds who enjoy watching independent movies by African-American filmmakers. This installment is a double feature, showing the funny short film Awkward Black Girl, and Slam, the award-winning 1998 feature film starring Saul Williams and Sonja Sohn. Event starts at 9 p.m. for cocktails and board games; movie begins at 11 p.m. Presented by Grownheadz.com and Charlotte Black Film Festival. Free. Red@28th, 2424 N. Davidson St, Suite 112A (behind Amelie's Bakery). redat28th.com.
Saturday, July 30
Party with Green Velvet
Green Velvet a.k.a. Cajmere, the legendary DJ and house music producer ("Shake and Pop," "La La Land"), mans the turntables for a night of dancing. 9 p.m. $10; 18 years of age and older admitted. Dharma Lounge, 1440 S. Tryon St. dharmacharlotte.com.
Live Red Ready! Red Shoe Affair
This event is for the camera-ready partiers, featuring live interviews, photo-ops, gift bags, and giveaways. VIP includes two private bars, complimentary champagne, and gourmet buffet. There will also be a Sexiest Red Shoe Contest. Music by Power 98's DJ Tab D'Biassi. Presented by F.Y.I. Entertainment and Str8swagg! Entertainment. 10 p.m.-2:30 a.m. Everyone free until 11:30 p.m. Free VIP for ladies wearing red heels till 11 p.m. $10 advance VIP tickets. Jet Ultra Lounge, 1202 Charlottetowne Ave. str8swagg.com.
Sunday, July 31
True Flavor Official Concert After-Party with John Legend
After nine-time Grammy winner John Legend performs in concert with the legendary Sade at Time Warner Cable Arena, he'll make his way over to the after-party, presented by Grey Goose La Poire. Music by DJ DR. 9 p.m.-2 a.m. $10 in advance, or $10 at the door with concert ticket stub. Phoenix, 300 N. College St. phoenixofcharlotte.com, thesolkitchen.com.