Sip, Swirl, Savor
The new Dean & DeLuca Wine Room offers a distinctive take on the wine bar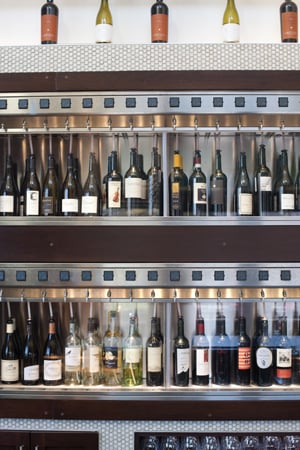 Consider your typical wine bar: cozy and dark, with dim lighting and comfortable seating. Dean & DeLuca's sleek new Wine Room—which is now attached to the market, diagonally across the street from its former spot in Phillips Place—is a striking departure. Although it isn't unwelcoming, it isn't exactly cozy, either. Instead, even with a dramatic inset fireplace at one end, the Wine Room feels stark, with brilliant recessed lighting, gleaming granite tabletops, and tiled walls. All those shiny surfaces seem to amplify the sounds of conversation and clinking glasses, which means it can be loud. And the large windows and bright lighting can leave guests feeling as if they're on display.
The Room's central feature is a massive double-decker wine system behind the bar, which, according to general manager Don Burns, chills reds and whites to their optimum temperatures. "We're not serving wine at room temperature anymore," he says. The wine list offers mostly Californian wines (although there are a few from Europe and South America) and presents seven red and seven white wine flights, each featuring three wines with two-ounce "tastes." But again, this isn't your standard wine bar: there are also six beers on tap, no corkage fees, and the option to order any beverage that's available in the attached market, including sodas and espresso drinks.
Possibly the biggest advantage to the Wine Room's new location, though, is its proximity to the market's large kitchen, which has transformed it into a full-service restaurant. Executive Chef Andres Moncayo has reinvented the menu, creating small plates, from charcuterie to desserts, that are all easily sharable.
The delicately fried calamari ($12) is flavorful on its own but holds up well to a dunk in the Meyer lemon aioli and spicy tomato sauce served alongside. Shoestring truffle fries ($6) are pleasantly crispy and thin, arriving nestled in a mini fry basket—although decidedly lacking in truffle flavor. Salads are beautifully presented, with decadent toppings that include pistachio-crusted goat cheese, tomato confit, and butternut squash ($11), and poached pear, Valdeón blue cheese, figs, and walnuts ($10).
If you still have room after sharing a few small plates, be warned that the portion sizes for the mains, each of which has a suggested wine pairing, are generous. But these dishes, which range from lush Prince Edward Island mussels ($14) to Roquefort Filet Mignon ($32), should not be missed—especially the succulent braised Cabernet short rib ($17). Simply prepared, it sits atop a mound of herbed polenta so thick with cheese that you'll need a knife to cut it.
At midday, the lunchtime market crowd overflows into the Wine Room, but seats fill up in the evening, and people tend to linger. In warmer weather, the patios on either side are sure to be popular—especially with diners who'd like to enjoy the Room's new menu in a more relaxed setting.