Siren Song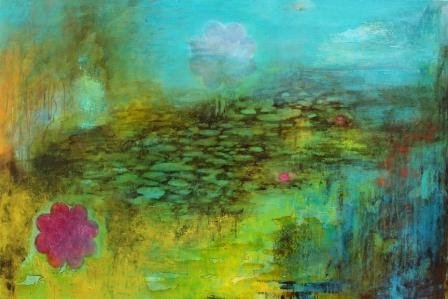 If there's such a thing as a benevolent diva, Ruth Ava Lyons is it. She's the artist and visionary, who, along with her husband, sculptor Paul Sires, created NoDa more than twenty years ago. The two artists invested in a sketchy part of town and almost single-handedly (or, I suppose, double-handedly) built what became known as Charlotte's arts district.
They decided to close their wonderfully cool and aptly named Center of the Earth gallery last year, but the two are still active in the arts scene. Lyons is now represented by SouthEnd's Hidell Brooks Gallery, where she'll soon have a new show on view. Having recently returned from a residency at the Everglades National Park, the artist is exploring anew the connection between man and nature.
In Song of the Ten Thousand Islands, she examines "man's relationship to the natural world," which has always been a theme in her work. But, she feels a new sense of urgency due to our vanishing landscapes and fragile ecology. There's a sense of mystery and magic at play in these paintings, and (I would say) a sense of melancholia, too.
Lyons' work is in such important collections as the Metropolitan Museum of Art, Hearst Corporation, and SAS Institute and in such humble collections as my own.
Also at the gallery for the next two months is Katherine Ace's Romance Redux. The Oregon artist uses new (digital downloaded texts) and old (oil paint) media to create her colorful works.
The opening reception is Nov 4 from 6 – 8 p.m. Details here.