Smashburger Fires Up for Grand Opening
The burger joint will open a new location in Charlotte on July 16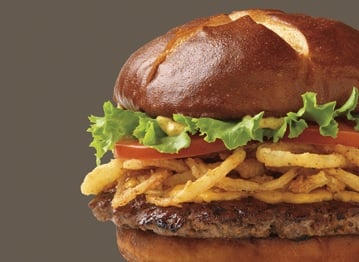 Smashburger is getting ready to open its second Charlotte area location Wednesday, July 16 in Cotswold Village Shops (4400 Randolph Road), next to Harris Teeter. Everyone is invited to come out for opening day, where they taste the smashingly fresh burgers, celebrate with fun onsite activities and help raise money for Ace & TJ's Grin Kids. The local restaurant owners are donating $1 from every burger sold from July 16 through August 13 to the organization. On July 16 from 11 a.m. to 7 p.m., Smashburger Cotswold guests can enjoy a complimentary Classic Smash, the restaurant's signature burger.
If you've never had a smashburger, the name comes from the way the juicy burgers are prepared. The Angus beef is smashed on a 400-degree flat grill – searing in the juicy flavor. They're then topped with fresh produce, real cheese, and assembled on an artisan bun. Also available are chicken sandwiches, veggie burgers, salads, and Häagen-Dazs® shakes. There's also a regional menu items specifically crafted to please local's palates throughout the Charlotte area. The Cotswold Smashburger will feature the Carolina Chili burger and chicken sandwich, topped with layers of melted American cheese, beefy chili, chopped yellow onion, Duke's® mayo and coleslaw on a pretzel bun.
"We are thrilled to become the newest addition to the growing Cotswold community," says Smashburger Founder and Chief Concept Officer Tom Ryan in a press release. "Smashburger can't wait to debut its second location in the Charlotte market, and we look forward to introducing more area residents to our delicious, smashed-to-order burgers."
The Cotswold location will be the first Smashburger in Charlotte city limits; another location currently operates in the Ballantyne area. Cotswold franchise owners Chris Smith and Steve Taylor, a 2012 recipient of Charlotte Business Journal's "40 Under 40" award, plan to open a total of eight new Smashburger restaurants in the Charlotte area. Jay Kikel will serve as general manager and operating partner of Costwold's Smashburger. The award-winning franchise was recently selected as the first place winner of Fast Casual's "Top 100 Movers and Shakers" award, as well as one of "America's Most Promising Companies" by Forbes magazine for two years.