"Smile, We Get to Make Beer" premiere Tuesday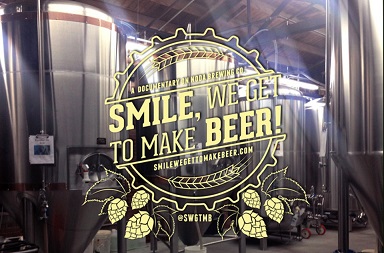 The question posed to Ryan Heefner by his professor at the University of North Carolina School of the Arts was simple: "What kind of story do you want to tell?"
The story he chose took many twists and turns over the last year and a half, and the finished product is now ready for the public to view. "Smile, We Get to Make Beer," a documentary about NoDa Brewing Company, will debut next Tuesday (May 27) at Studio Movie Grill at the Epicentre. Tickets, which are $10, can be purchased here, and include a souvenir pint glass.
Initially, this was supposed to be a five-to-10-minute assignment of a documentary short. When his professor asked the aforementioned question, Heefner began thinking.
"I had seen a lot of documentaries on corrupt or shady businesses and companies and their downfall," he says. "I thought, wouldn't it be great to do something different on a true grassroots company and be there with them from the beginning?"
During that time, Heefner had also stopped in to NoDa Brewing, which had recently opened. He began talking with co-owners Todd and Suzie Ford, and things began to click.
"I really liked the idea because NoDa wasn't trying to be the biggest brewery or make the most money; they were honest and truly doing what they love."
With the Fords and head brewer Chad Henderson on board – "the biggest reason this film was made is that they said yes," Heefner said, laughing – Heefner and his small crew began filming, day and night, in all aspects of the brewery and its staff. The plan was to stay for a week and from that footage he was able to put together a trailer, but interest soon began to snowball.
"As I got into telling NoDa's story and Chad's story, I saw there was much more I could tell than just a five or 10 minute class assignment," he said. "And I also quickly saw the support from the community in wanting to see more and making this happen. The story changed a lot over the last year and a half and I'm glad I could see it through."
So Heefner kept filming and was soon embedded at NoDa. Whatever was going on with the brewery, he and his crew were there. In the film, you'll see things such as Henderson at home brewing a beer (which is how he got his start), NoDa collaborating on a beer (PIPA Long Hoppings) with RJ Rockers in Greenville, S.C. and even footage from the 2012 Great American Beer Festival in Denver, where NoDa's Coco Loco won the silver medal.
"Doing all of that was my attempt to cover the full scope of what they're doing," he said. "I originally thought it (the film) would be mainly about Todd and Suzie, but quickly learned that it's about everyone at NoDa – how dedicated each and every one of them are to something they truly love."
And that dedication leads to the title of the film as well. Taped to a glass wall at the brewery are the words, "Smile, We Get to Make Beer," signifying the reason why everyone is working, even through the tough days.
"I'd be filming Chad and he would often say, 'I just can't imagine doing anything else,' and he's saying that while scooping out 2,000 pounds of wet grain, or spraying down a tank for the 100th time," Heefner says.
And the film's title also allowed Heefner to discover something about him as well.
"I had a full-time job (selling paint) and lived comfortable, but wanted to do something else, and that was (filmmaking)," he says. "Just like Todd and Suzie, I took a risk, but every time I was behind the camera during 18-hour days or falling asleep on a couch, I was saying the same thing Chad was: 'I can't imagine doing anything else.'
"So really, you can replace it with anything: 'Smile, you get to be a filmmaker.' 'Smile, you get to make a movie.' It's about doing what you love."
There was one more huge obstacle, however – getting the film funded. While the university has offered money to past filmmakers, Heefner declined, as he wanted to be able to control the entire process. So he turned to the crowdfunding site Kickstarter, offering such things as stickers, T-shirts and being named in the credits as rewards for backing the film.
With only 19 hours to go (Kickstarter projects run for 30 days), things were looking bleak. Heefner needed $1,500, and the project had never earned more than $500 in any given day.
"I was heading into a class thinking about how I was going to thank the people who did donate even though we didn't hit our goal," he says. "Well, my phone started buzzing in class to the point where it died. So when I got out of class, I had a classmate pull up the Kickstarter page and saw that the money raised was at $5,007. And then I kind of hit the floor."
Thanks to a huge push from the local beer community and others, Heefner was actually able to raise $500 over his target.
"It was a really special moment for me," he says. "Everybody rallied and made it happen."
Over the last six months, Heefner has been finishing up editing the film before its premiere on Tuesday. Most of the NoDa staff will be on hand at Studio Movie Grill (there's a question and answer session slated for afterward), and six different beers from NoDa (CAVU, Coco Loco, Hop, Drop 'n Roll, Jam Session, Ramble on Red and Woody and Wilcox IPA) will be available on tap at the premiere.
Heefner also plans to enter "Smile, We Get to Make Beer" in local, regional and national film festivals, including Sundance and South by Southwest.
And now that the film is completed, Heefner made a surprise admission that it nearly never happened at all.
"After the first day of filming, my grandfather passed away," he said. "So I was sitting in the taproom thinking, 'How in the world can I ever finish this?' I needed to take care of my family.
"I talked to my crew, and they said they would continue filming while I was gone. And when I returned and walked in on the crew filming, I was able to see everything. And I thought, 'This would be foolish to stop here.' And every time I hit a 'stop' point, I'd always see something that said, 'This is worth telling.' And I'd keep going.
"I'm glad I saw it through, and I'm thankful to NoDa for giving me exclusive access. I didn't want to make a commercial for them and this isn't by any means. This is a story that I think people haven't heard, but when they do, I think they'll enjoy it."