Smoke and Mirrors
Don't be alarmed by the images you see at UNCC's uptown gallery. It's just a fiery new art installation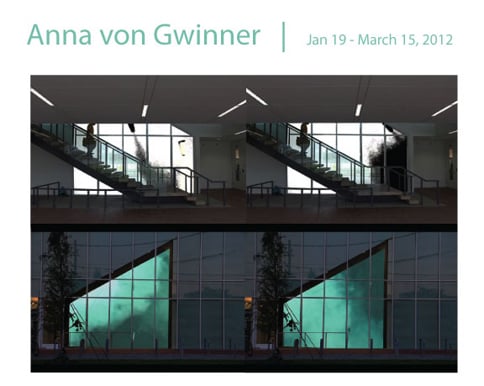 UNCC's College of Arts + Architecture is setting uptown on fire.
Not really. But, they did commission Anna von Gwinner, a Berlin-based artist and architect, to create an explosive new installation in their center city building. This site-specific video installation, "Betwixt and Between," will command attention from passersby as it projects from the gallery in two directions: out into 9th street and into the building lobby.
Von Gwinner's moving image presents two visions: an explosive series of pyrotechnics on the interior and, on outside, a billowing cloud of smoke. Between these two screens lies the empty length of the 54-foot gallery.
The artist said, "There is a play between a triggering condition of uncontrolled explosions on one side of a space and its humble consequence of smoke on its opposite end. The vessel for this transformation is the inaccessible space between these two projections; the status of its variance and its secret extensions is the mere production of our imagination."
The exhibition opens with a reception and artist lecture on Jan 19 and will run through March 15. It's free, and the gallery is open 9 a.m. to 9 p.m. seven days a week. It's best viewed after dark, of course.
Where there's smoke, there's not always fire.