Sneak Peek: Dean's Italian Steakhouse Opening in Uptown
Opening in August, this gorgeous space at the swanky new JW Marriott is destined to be Charlotte's next hot spot in 2021.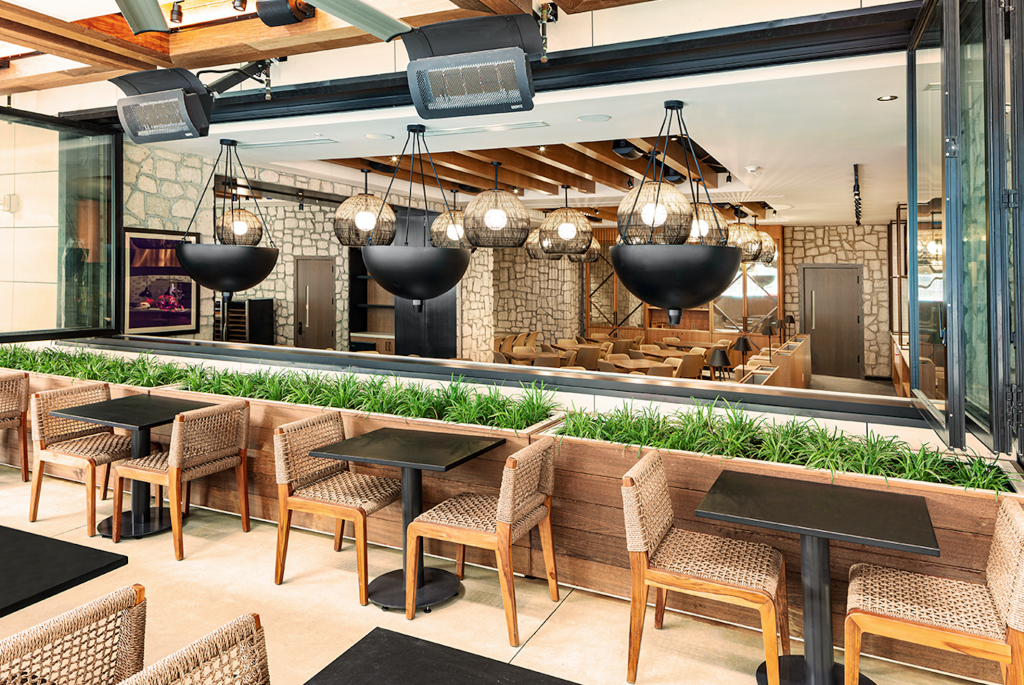 In August 2021, Uptown Charlotte will welcome a sleek 22-story tower to its skyline – home to the new JW Marriott Charlotte. Situated on the corner of College and Stonewall Streets, the hotel will also bring three unique restaurant concepts to the Uptown dining scene.
One of such concepts especially stands out: Dean's Italian Steakhouse.
Dean's is a classic American steakhouse but with a rustic Italian expression – think U.S.DA. Prime 28-day dry-aged steaks and 100% American Wagyu served alongside Short Rib Gnocchi and Truffled Bucatini.
The restaurant space is modern, but also warm and familial. The show-stopping open kitchen is the centerpiece, and the expansive, street-level covered patio is destined to be the center of attention this fall.
Robert Reinken is the Executive Chef at Dean's, bringing with him 20 years of experience in kitchens at the Charlotte Country Club, U.S. National Whitewater Center, and Evoke inside Le Meridien. Chef Reinken catapulted Evoke to make Charlotte magazine's 50 Best Restaurants list in 2018-2019 – so we expect great things from his food at Dean's.
"Having experienced the elevation of Charlotte's culinary scene over the years, Dean's Italian Steakhouse is another benchmark moment for the city," said Reinken. "Dean's will offer a world-class dining experience – from morning coffee to a prime cut of beef alongside a rare vintage bottle of wine – all from one destination."
Get a sneak peek of the menu at Dean's Italian Steakhouse:
Dean's is open daily for breakfast, lunch and dinner with weekend brunch.
Dinner
Dinner menu highlights include Dean's Tomahawk Bone-in Ribeye Chop, 36 ounces of well-marbled American Wagyu beef seasoned with signature rub that seals in the flavor of every bite.
All pastas are house-made onsite. Signature Dean's pasta dishes include a Wagyu Bolognese with burrata, basil and grilled fennel.
If it's wine you crave alongside you're meal, in addition to a wide selection, The Dean's List features off-the-menu bottles specifically chosen for their rarity and historical significance, these highly sought after bottles represent a best-in-class selection of California, First Growth, and Wines of Angelo Gaja.
Lunch
The lunch menu includes many of the same stand-out dishes as the dinner menu but with smaller portions and lighter options such as gourmet pizzas, soups & salads, a flat-iron fritte and Wagyu burger.
Free Lunch Entrée Bounceback: Dine at Dean's Steakhouse for dinner during the first week of opening, and receive free lunch bounce back! (Valid only the first week of opening through Aug. 24, 2021)
Breakfast & Weekend Brunch
The Counter at Dean's is open daily for breakfast and features Illy gourmet coffee and espresso. Indulge in signature handmade Italian pastries, including Bombolonis (Italian Donuts), Cornettis (Italian Croissants), and a one-of-a-kind Cannoli Muffin.
A dedicated brunch menu will be offered on weekends and will include Neapolitan-style Italian pastries, brunch bruschetta, hearty Italian egg and sausage entrees, pizzas and more.
The JW Marriott opens its doors in Uptown Charlotte on Tuesday, August 17, and the hotel will provide an urban retreat capturing its natural surroundings and offering sophisticated character paired with southern hospitality.
In addition to the dining and bar options, which include Caroline's Oyster Bar and Aura Rooftop, expect first-class amenities such as a spa and a rooftop pool with five private cabanas, sun-shelf chairs in the pool, a fire pit, and a lounge area.
Free Lunch Opening Offer
Free Lunch Entrée Bounceback: Dine at Dean's Steakhouse for dinner during the first week of opening (Aug. 17-Aug. 24), and receive a free lunch bounce back!