#socialmediaetiquette
In a society where Instagram is king, make sure you read our social media rules first before attending your next wedding.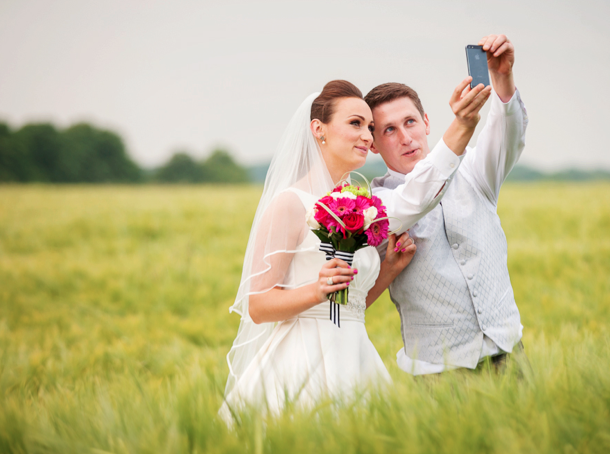 Right after I got engaged and my fiancé and I celebrated with our families, I had this fear that someone was going to splatter the news on Facebook before I even had a chance to tell my best friends. I felt like all my conversations needed to end with, "Thank you and please don't put anything online yet."
There's no denying that social media has changed the way we share news. If you're recently engaged or a few days out from your wedding, you shouldn't have to stress over excited friends and family getting a little too post-happy and sharing intimate moments with their 1,200 closest Facebook friends against your wishes.
So wedding guests, listen up – this post is for you. Here are our top tips on social media etiquette to make sure that the special couple's day goes off without a hitch. And if you're a bride stressing over social media sharing? Feel free to drop a subtle hint to your friends and family by sharing this post.
Do:
Put away your phone and be present. Embrace the sacredness of the ceremony and enjoy the party afterward sans iPhone.
Ask permission before posting any pictures of the bride and groom.
If a couple creates a wedding hashtag, use it. They created it for a reason.
Turn your flash off, even at the reception. It's distracting.
Don't:
Spill the big news on Facebook, Twitter or Instagram before the couple has had a chance to announce it to everyone themselves. We feel we shouldn't even have to say this, but it happens.
Take pictures during the ceremony. The couple probably shelled out thousands of dollars for a professional to handle that.
Post any pictures of the bride, her dress, her hair or anything else before the ceremony unless explicitly asked by the bride.
Tweet anything negative. If the ceremony is too long or the chicken at the reception is dry, keep it to yourself.
If you're engaged or recently married, we'd love to know your thoughts on how you handled social media during your engagement and wedding!