Soul Food Sessions
Five Charlotte chefs celebrate soul food, and you're invited.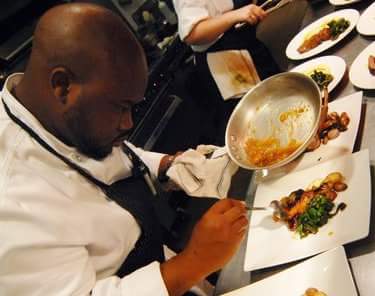 Lovers of soul food, take note: a group of Charlotte chefs are getting together to host a dinner called "Soul Food Sessions" this coming Tuesday at @Dawn Cafe. The four-course affair will feature dishes that represent each chef's personal interpretation of soul food.
The five chefs, all of whom are African-American, hope to surpass the typical expectation for this oft-misunderstood cuisine, distinct but inextricably linked to the Southern fare currently being lauded in upscale restaurants across the country. "Soul food doesn't just mean fried chicken and collard greens," says Chef Michael Bowling.
Courses include a crispy seared rock fish with local sweet potato and Bradford watermelon molasses purée, and a butternut and cinnamon swirl shortcake with candied butternut squash and toasted marshmallow fluff. Below are all of the chefs participating in next week's dinner, which organizers hope is just the first of many:
In many respects, this dinner has been a long time coming. "Greg [Collier] and I have been talking about doing a dinner for years," says Bowling. "But Jamie from What the Fries approached the two of us about doing a event with him and his partner Greg, and we decided to not only do it, but to do it with a cause."
That cause is the Community Culinary School of Charlotte. All proceeds from ticket sales will go to this intensive program that provides culinary training and job placement assistance to adults needing support in finding long-term job opportunities.
The chefs are passionate about supporting this organization, well-respected among Charlotte restaurants for the skills they teach their students in such short order. They are also passionate about giving voice to minority chefs working all over the city. "We wanted to do it to also show that minority chefs can burn with soul," says Bowling.
Dinner begins at 7 p.m. with some light appetizers. Guests are encouraged to bring their friends and a bottle of wine (or their favorite beer) to this BYOB event. Tickets are $45 and may be purchased online.