Sour Beers: A Charlotte Explainer
In Charlotte and elsewhere, a new generation of drinkers feels the power of the sour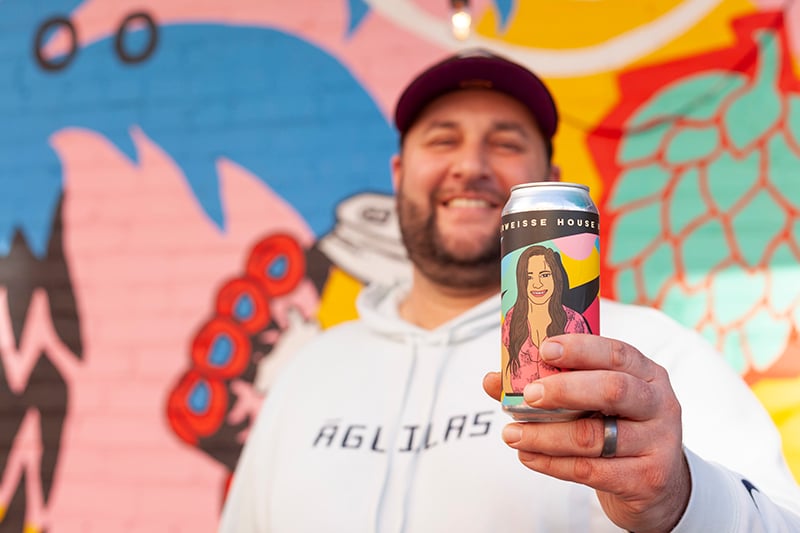 Before me, at the Salud Cerveceria bar in NoDa, stand two things: a 4-ounce sampler glass of Dairelynerweisse, a fruited Berliner Weisse with raspberry, blackberry, and pomegranate; and Jason Glunt, the friendly, fast-talking gentleman who founded this place and brewed this beer. I have some idea of what I'm about to taste—they're called "sours" for a reason—yet there's no adequate preparation for the acidic thresher blade of that first sip. Do my lips smack? Yes. Do I feel a tingle behind my ears, as if I'm electrified? Yes. Does my face contort into a wincing pucker? Yes. Do I take another sip? Of course!
For the uninitiated, it takes three, Jason says. The first sip of a sour is rough. You're just not used to it—the tartness from lactic acid and the complexity of the flavors. (Glunt and other brewers generally refer to this as "the funk.") The second sip, oddly, is kinder. At Salud, my taste buds begin to register the vivacity of the pomegranate and the pleasant richness of the interlocking flavors. By the third sip, my palate has adjusted. I finish the sampler, and I feel the funk.
"I love the dryness," Jason says as he taps under his ear. "Like, it hits you right here in the back of the jaw."
When you drink a sour, you're basically consuming a glass of bacteria, often acquired through exposure to open air—most commonly Lactobacillus and Pediococcus, which multiply during fermentation and produce the lactic acid and, therefore, the funk. Brewers often add fruit to the brew for more tartness, as in Salud's Dairelynerweisse. Traditional sours can take as much as a year to mature, though, which has pushed brewers to develop a shortcut—sweeter "kettle sours," which they can brew in a matter of days—that Jason says outsell the older versions at Salud by a ratio of three to one.
As a business owner, Jason approves. As a beer aficionado, not so much. "Nowadays, everything is so sweet, you lose that funk, that bite. It's like I'm eating Jolly Ranchers," he says. "Don't get me wrong—there's nothing wrong with the new stuff. We do it. But there's just more nuance to (older) beers. You miss that depth."
Beer drinkers' taste for funk is a relatively new phenomenon, at least in the United States. A decade ago, sours—lambics, goses, wild ales, Berliner Weisses like what I'm drinking—were generally considered European curiosities, virtually unheard of in American taprooms. But around 2016, in keeping with the U.S. craft beer movement's incessant search for the distinctive and eccentric, more sours appeared in tap lineups. A few breweries even began to specialize in them.
It's not clear why, or what was behind the timing. "I think people tried sours and then saw that it resonated, and like many things in craft brewing, it became a self-perpetuating cycle," says Bart Watson, the chief economist for the Brewers Association, a Colorado-based trade organization for small and independent brewers. "Stuff that works gets copied and adopted, and it goes from there."
Nationwide sales of sours have more than doubled in the past three years, Watson says—but it remains a small niche; national retail data show they accounted for 1.3% of craft sales as of November, compared to 0.6% in 2018. If young folks keep quaffing those kettle sours, though, the numbers might keep growing. "It's the younger drinkers—23-, 24-year-olds who grew up eating Sour Patch Kids—and it's just like, dude, it's insane," Jason says. "People freak out over that stuff."
---
A Sour Sampler

Three Charlotte-area sours worth the pucker
Traditional: Carolina Custard
Appalachian wild ale with pawpaw fruit
Fonta Flora Brewery
Kettle: Summer Camp Sammies
Fruited Berliner Weisse with grape jelly, peanut butter,
and marshmallow
Newgrass Brewing Co. (Shelby) in collaboration with Salud Cerveceria

Compromise: Cadillac Rainbows
Tropical Berliner Weisse with mango, guava, passion fruit, and peach
Divine Barrel Brewing