Southend's New Twisted Eats
Chef Rob Masone has launched a CLT-inspired food truck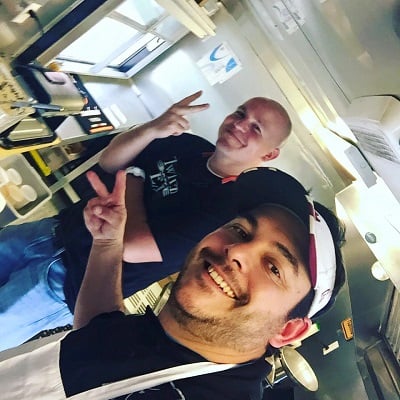 Chef Rob Masone (formerly of Heist Brewery) has launched the first ever Charlotte beer-inspired food truck. Masone's catering company Kre8 is collaborating with Wooden Robot Brewery to bring a beer-infused menu to Southend which just opened for business on Wednesday.
The "Twisted Eats by Kre8" food truck will be parked outside Wooden Robot Brewery in Southend serving items made exclusively with Wooden Robot beer. From Chef Rob's original beer cheese to beer boiled macaroni and cheese eggrolls, guests will get a taste Wednesday through Saturday evenings and Sundays for brunch."We had a killer brunch when I was at Heist," says Chef Masone, "we're gonna do it here. There's nobody doing brunch on a food truck. It'll be badass."
Masone chatted with us about the venture while sitting in his new food truck, getting ready for night two:
"The whole thing is exciting. Charlotte's craft beer crazy and they have been for a number of years now. I've learned a lot more about appreciating beer, too, since I've been around it for quite some time. … this opportunity presented itself and I really started to notice the food truck world and at the same time started developing this relationship with Wooden Robot. One day we were sitting around having a sour and I said, 'man, it'd be awesome to cook with this' and it all kinda moved quick from there but, it felt right."
"I didn't realize it'd be the first craft beer truck, I mean, it just seemed like something fun. … Being at Heist for so long, I know Charlotte wants food in a brewery; I know people will want it and they're excited about it. … Look at how many breweries we've had in the last few years – how can you go wrong when you start cooking with the beer?!"
Still craving more? There's hot rocks fried ribs with a sour IPA braise and burnt-mango barbecue; a drunken duck quesadilla featuring cajun rubbed duck with caramelized onions, peppers, and a raspberry-chipotle creme fraiche; plus a brown bagged bacon crisp with applewood smoked bacon, house-made butter cracker and shaved parmesan. We're drooling. "Everything is made with one of more styles of the beer," says Masone, "All the feedback we've gotten so far is awesome – the only negative we've gotten was that there was too much food!"
"At Wooden Robot, there is nothing we love more than great beer, food, and friends. Working with Chef Rob and Kre8 is an exciting way to combine all three, while continuing to innovate and have fun," said Dave Wade, co-owner and head brewer at Wooden Robot in a news release.
Though the food truck promises to take quite a chunk of time out of Masone's schedule, the events and catering part of Kre8 will press on. For more information, contact chefrob@kre8events.com.