Southern Comfort: DIY of the Week
Low country light installation for the Southern wedding soirée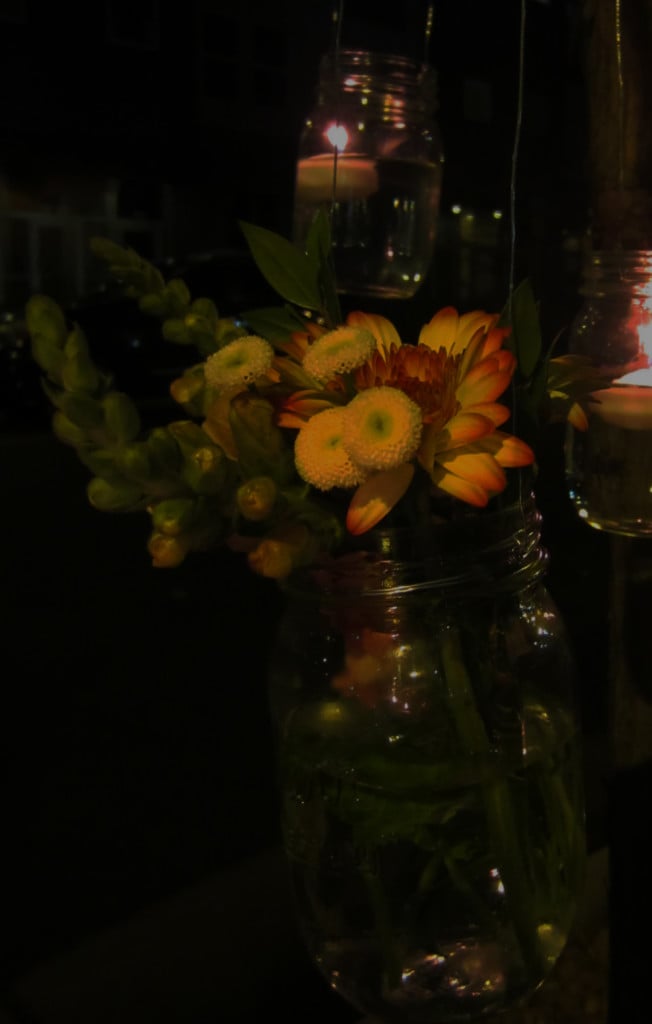 The mason jar… Somehow, this utilitarian glass jar has situated itself at the crux of all DIY endeavors. Countless boards on Pinterest are dedicated to the countless ways in which the mason jar can be used. An inevitable cliché? Perhaps. But for now, our adoration for this handy vessel remains. That said, we've combined a few of our favorite things to create the ultimate romantic addition to an outdoor wedding setting: dainty tealight candles, a few flowers, and, of course, mason jars.
For the materials:
You'll need an appropriate number of mini-sized mason jars, depending upon how many trees you'll be utilizing for the installation. For this particular project, the more jars, the more aesthetically pleasing. (For my purposes, I only purchased 5, but these jars can easily be ordered online in bulk. I found mine at Michael's for under a dollar each). Next you'll need gauge wire to hang the jars. You need not get thicker than 22 gauge–this is plenty sturdy enough to hold the jars in place. Also easily attainable in bulk online (or at Michael's), you'll need a number of floating tealight candles. White or ivory will look the most elegant for this project. I chose white (and lavender-scented–and they truly did give off a lovely aroma). Finally you'll need flowers. Given that this project is low on cost and materials to begin with, the flowers can really be chosen at your discretion. Something as simple as baby's breath will be a wallet-friendly option and create a whimsical look. For flowers with a larger bloom, a single one placed in each jar will look simple and chic. For the small-scale installation I put together, I found an inexpensive mixed flower bouquet at Trader Joe's and created mini bouquets for each jar.
Now the assembly:
Use heavy duty scissors to cut your gauge wire. You'll use two pieces of wire per jar. The length per jar should vary because you'll want varied hanging lengths. Once you've cut your first piece, take about a fourth of the length and wrap it around the lip of a jar with about an inch crossed over the opposite end. Pull both ends tightly and keep them held in place with a firm grip.Then take the extra inch and wrap it tightly around the long end. Once you've wrapped the piece around about 5-6 times, you may trim extra length off. Repeat for the opposite side of the jar.
Once you've completed these steps for each jar, now you can move on to your floral arrangements. Trim your flowers down to fit the height of the jars. Keep in mind you'll want to have about a three to one ratio of lights to flowers. The lights will illuminate the flowers and create an overall standout effect for photos, so be sure to have fewer jars with flowers.
Now that all your flowers are trimmed, fill all the mason jars slightly less than halfway with water. Keep the level roughly uniform throughout. Now, sticking to an approximate three to one ratio, place your flowers and candles into the jars. Once all your jars are filled, place them in large crates for easy transport.
Finally, the installation:
You should have varying lengths of wire on each jar, but if you don't, you may simply tie them with varying lengths of leftover wire at the top. To hang a jar from a branch, first be sure to choose only branches sturdy enough to withstand the weight of the jar. Then cross the two ends over the top of the branch and continue to wrap them around the branch in the same spot until you reach the end of the wire. The closer together the jars, the more beautiful the overall look will be.
Once you've hung all the jars, take a long switch lighter and light your tealight candles. And voila, you have a low country light installation…And one more reason to love the mason jar!