Southern Dishes Defined: Cheese Straws
Plus: a recipe from Chef Blake Hartwick of Bonterra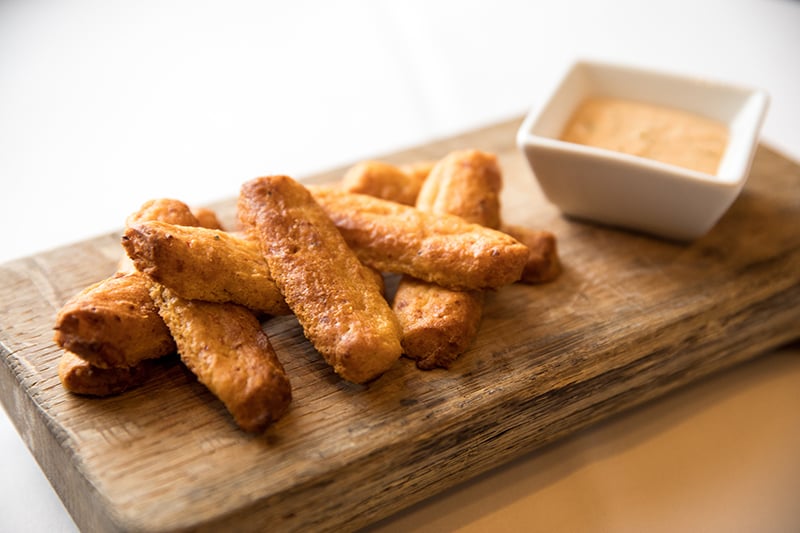 THE INGREDIENTS for cheese straws—the staple snack at Southern gatherings—don't vary much between recipes. Most include some combination of flour, butter or margarine, cheddar cheese, and spices. It's the ingredient ratios, specific ingredient brands, and shape of the "straws" that bind each recipe to a family. For the Ritchie family in Concord, the fourth-generation recipe calls for margarine, extra-sharp cheddar, and cayenne pepper. Earlier generations rolled the straws and pricked them with a fork to create the signature ridges. These days, they rely on a cookie press to extrude the familiar shape. The straws are delicate yet bold, with a feathery crumb and a slightly spicy bite—characteristics shared with many a Southern host.
Where to find cheese straws?
Ritchie Hill Bakery produces cheese straws in downtown Concord using the same family recipe. They are available at 7th Street Public Market, 224 E. 7th St., and online at ritchiehillbakery.com.
RECIPE: Cheese Straws
Chef Blake Hartwick, Bonterra Dining & Wine Room
2 cups grated cheddar
1/2 cup soft butter
1/2 cup Duke's mayonnaise
3 ounces diced pimentos
1 teaspoon garlic powder
1 teaspoon lemon juice
1 teaspoon paprika
1 roasted jalapeño, de-seeded
1 1/2 cups all purpose flour
1. Combine all the ingredients, excluding the flour, in a mixer.
2. Mix well for 1 to 2 minutes.
3. Slowly fold in the flour until combined.
4. Place bowl in the refrigerator for 30 to 45 minutes.
5. Preheat oven to 350 degrees.
6. Cut the mixture into 2-inch pieces, roll them out into straws, and place on a sheet pan lined with parchment paper. Bake 12 to 14 minutes, until crispy.