Southern Spring Home & Garden Show
Jump into warmer days at this weekend's event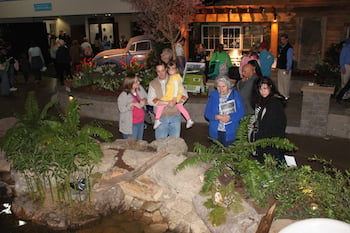 For 55 years, the Southern Spring Home & Garden Show has given us an early glimpse of springtime. This year, the show's theme, Carolina Calling, provides a strong sense of place to anchor more than 350 exhibitors who will present the latest in home and garden design.
The show starts on Friday, Feb. 20, and runs through the weekend. Then it returns for an encore the following weekend, Feb. 27 through March 1.
During the first weekend, floral designer and consultant Kevin Ylvisaker returns to the show. Ylvisaker has served on the design teams for two presidential inaugurations (President George H.W. Bush and President Bill Clinton) and as a judge for the Tournament of Roses Parade in Pasadena, California. The second weekend brings "The All American Sweetheart Couple" from HGTV's reality show "Flipping the Block." Self-taught designers John and Whitney Spinks will present tips and tricks to help you achieve a beautiful, functional space on a budget.
New to the show this year is the entertainment stage sponsored by 96.9 The Kat. Country band Parmalee will perform at 12:30 p.m. on Saturday, Feb. 28. Local favorites, such as acoustic guitarist Tom Billotto and the Davidson Community Players, will also perform. See a full lineup of planned entertainment here.
This year's cooking stage is sponsored by Got To Be NC (N.C. Department of Agriculture). Local culinary expert Heidi Billotto will serve as stage host for both weekends. Local-food proponents, such as Pauline Wood of the Matthews Community Farmers' Market, will discuss the benefits of sourcing food locally and eating seasonally. Several local chefs, including Clark Barlowe of Heirloom, Jon and Amy Fortes of Flipside Cafe, Chris Coleman of The Asbury, and Rocco Whalen of Fahrenheit, will display their talents in cooking demonstrations.
Local experts in remodeling, cabinetry, interior design, landscape design, exterior lighting, and more will be on hand to discuss ideas for future projects. The show encourages attendees to take photos while collecting ideas.
Admission for the show is $11 at the door or $9 for advance tickets online. Click here to purchase.