Southern Surprise at Delta's
Delta's serves up down-home favorites in a stylish setting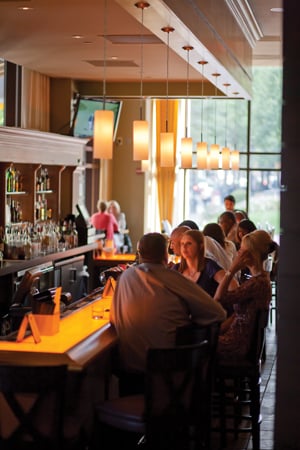 When it comes to Southern food, there are two kinds of restaurants: those that offer posh Southern fare in an equally posh setting, and those that serve Southern home cooking in a casual setting. Delta's Restaurant, however, proves to be a rare exception.
Located in the expansive 9,000-square-foot space on the fringes of uptown that formerly housed G.W. Fin's, Delta's opened in April. The restaurant serves Southern cuisine in an upscale setting, and is the first sister location to the original Delta's, which opened in New Brunswick, New Jersey, in 1999.
The menu from Executive Chef Willie Stafford, who oversees the kitchens at both locations, offers a solid roster of Southern and Cajun favorites. A fried-foods-heavy appetizer menu includes fried catfish fingers ($10.95) and alligator ($10.95), plus a fried crawfish appetizer ($11.95) that offers a mound of battered and lightly fried crawfish tails served with tartar sauce. A Collard Green Dip ($9.95) made with collards, cream cheese, and mozzarella arrived lukewarm and with disappointingly tiny specks of greens.
While there are few surprises on the dinner menu, energetic servers and a sleek dining room make Delta's a distinctive destination for Southern comfort food. Fried whiting over Jambalaya grits ($20.95) presents a generous portion of flaky, white fish atop a mound of creamy grits mixed with diced chicken, shrimp, andouille sausage, peppers, and onions. The fried chicken and baby back ribs ($22.95) come with a hearty portion of crispy fried chicken and tender, luscious ribs, while the Delta's take on chicken and waffles ($19.95) consists of fried chicken piled atop a fluffy sweet potato waffle. Each entrée comes with two sides of your choice, and the options include several classic Southern sides such as rice and gravy, red beans and rice, gooey baked macaroni and cheese, collard greens, and fried okra.
An inventive specialty drinks menu offers a glimpse into Delta's vibrant bar scene, which just might be able to single-handedly revitalize the restaurant's sleepy section of North Tryon Street. The Queen City Cup ($10) is the restaurant's take on the trendy Pimm's cup and is refreshingly delicious, with muddled strawberry and cucumber, fresh lemon, Pimm's No. 1, and ginger ale. The Southern Old Fashioned ($10) offers a twist on the classic, with Maker's Mark, raspberry, agave nectar, grapefruit bitters, and an orange slice. And the Fourth Ward ($10) mixes cognac, Cointreau, agave nectar, and fresh lemon syrup.
The large bar area is a showstopper: spanning the entire length of the restaurant, it's packed with music lovers on Tuesday, Friday, and Saturday nights, when a rotating roster of local jazz bands plays in an alcove at the front. With its elegant ambience and energetic bar scene—plus the addition of new seating on a covered patio overlooking Tryon Street—Delta's is a lively addition to the city's restaurant scene.
Location:
Delta's Restaurant
525 N. Tryon St.
704-612-2633