Spa Mixer in Ballantyne July 28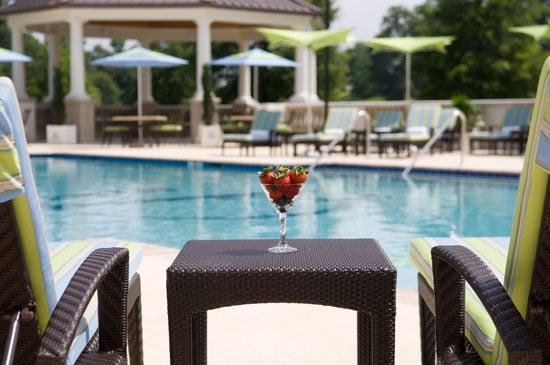 Ladies listen up (and fellas who recognize it's beneficial to attend events that appeal to women). The Spa at Ballantyne has partnered with Mercedes-Benz of South Charlotte to present a Spa Mixer on Thursday, July 28, 6-8 p.m. at the hotel. The event takes place poolside and will feature complimentary hors d'oeuvres, mini spa services, giveaways, a display of new 2012 Mercedes-Benz vehicles, and a cash bar.
The Ballantyne Hotel's outdoor pool is beautiful, like something you would see at a tropical resort. There are several chaise lounges and other comfortable seating surrounding the pool, including several with misting umbrellas so you can beat the heat. And its bar is known for mixing great cocktails.
Spa services being offered for the evening (at $1 per minute) include: chair massage, reflexology for hands and feet, mini back massage, polish change for hands and feet, paraffin dip for hands, and facial masques. If you attend, your name will be entered into a drawing to win a gift card to The Spa at Ballantyne for a complimentary spa service as well as the Mercedes-Benz Best of the Best Prize Package that includes gift cards, wine stoppers, and golf shirts. The grand prize spa giveaway is the "Day Long Staycation Package."
You're asked to RSVP by the end of the day Monday, July 25 to: William Culp, 704-889-4444 ext. 1011 or rsvp@mbcharlotte.com.
The Spa at Ballantyne, The Ballantyne Hotel & Lodge, 10000 Ballantyne Commons Pkwy., 704-248-4141, spaballantyne.com.