Space for Your Soiree
There are plenty of spots around Charlotte perfect for hosting your holiday dinner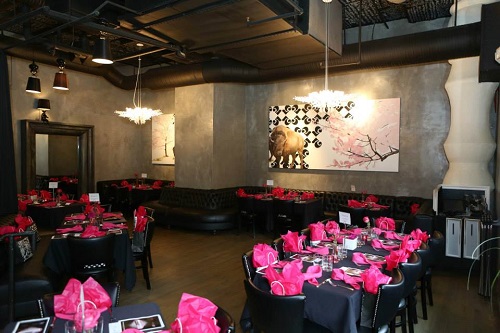 Thanksgiving snuck up on us, but that doesn't mean you have to let the December festivities do the same. Whether you're looking for a spot to gather family, friends, or co-workers for the holidays, Charlotte has you covered from elegant restaurants to trendy eateries.
The Cool – Fran's Filling Station: The Dilworth-based New American restaurant expanded its space in May this year and can accommodate up to 30 seated guests and 50 standing. Even better, the space is fitted with A/V capabilities (so you can show those old Christmas movies) and is connected to Fran's Tap Room which can hold an additional 25 people and features 12 taps of local beer. For more information, call 704-372-2009.
_________________
The Oh-So-Charlotte – 5Church: Guests from out of town may want a true taste of uptown – this is where you bring them. 5Church has several private dining options including 40 seated in the Buffalo Room; 14 seated in The Horseshoe; or 36 seated in The Green Room. There are even customizable menus for brunch, lunch, and dinner. Call 704-919-1322 or visit the website.
_________________
The Stylish – Passion8: If you're searching for a space with several space options, Passion8 is the way to go. The Chef's Table – located inside a glassed-in room (curtains can be drawn or not) can seat up to 10 guests and offers a locally based pre fixe menu with options of 7-12 courses. The Feast Room is located across from the kitchen and can accommodate 50 guests. Lastly, the Mezzanine level can host 50 guests in various configurations and also features A/V equipment including an 8 foot screen and projector with sound system.
_________________
The Elegant – McNinch House: Need something upscale for your annual Christmas dinner? The McNinch House is named one of the best restaurants in Charlotte just about every year by numerous outlets, and their private dining room can accommodate a good number of people – from friends to family and everyone in between. Call 704-332-6159 for more information.
_________________
The Casual – Olde Mecklenburg Brewery: Breweries more your scene? Look no further than Olde Meck. The brewery's 1700 square foot Festhalle has its own Biergarten and can be booked by calling 704-525-5644 or filling out a Request for Proposal form here.
_________________
The Adventurous – ​Tapas 51: If you're guests crave a bit of an exotic taste, head to Tapas 51, which has a private dining room. With items like octopus ceviche, chili and coffee crusted brisket, and tres leches with bruleed peaches and chili-lime peanuts, you'll definitely want to bring the more outside-the-box family members. Call 803-548-1612 for more information.