Special Delivery
Community supported agriculture brings local food to your doorstep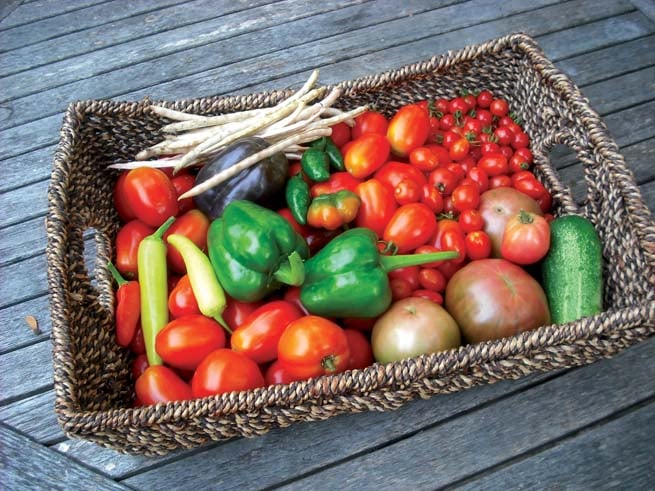 It's hard to beat the taste of fresh-picked produce. While farmers markets and u-pick farms are in full swing, it can be difficult to squeeze in an extra errand—or just too hot to pick berries. The good news: it's possible to have fruits, veggies, meat, and eggs from local farms delivered right to your door through Community Supported Agriculture (CSA) programs. "Whether you [want only] organic produce or pastured meats or you're happy to support all local and sustainably grown food, there is definitely a CSA out there for you," says Erin Brighton, director of the Charlotte Mecklenburg food Policy Council.
Before purchasing a CSA share, consider these factors:
The Shares: Some farmers fill CSA boxes with products grown or raised on their own farms while others partner with multiple farms to offer a larger selection of local foods. Review the offerings and decide whether to sign up for a share that offers fresh produce for a few weeks in the summer or one that boxes up seasonal fruits and vegetables along with milk, eggs, and meat throughout the year. "The most important thing to consider when joining a CSA is that you are comfortable with the farm and their farming style," says Brighton. In other words, if organic produce is a priority, make sure to sign up for shares from a farm like Poplar Ridge Farm that is certified organic.
Flexibility: Hate turnips? Allergic to strawberries? You'll want to make sure that your CSA allows you to make minor tweaks to your weekly share. Know Your Farms creates produce boxes using produce from multiple local farms and offers members the opportunity to customize theirs. "You can go online and pick out all of the produce you want to receive in your weekly share just like you would at the farmers market," explains co-founder Wesley Shi.
Convenience: Most CSAs offer the option of picking up your shares or having them delivered. know your farms has 30 pickup locations, but most of its customers have boxes dropped off at their homes or offices. The CSA operated by Poplar Ridge Farm offers deliveries twice a week as well as on-farm pickup. "Even if our customers have their shares delivered, we encourage them to come to the farm and see where their food comes from," says farm co-manager Marianne Battistone.
Commitment: Just like farmers who commit to working the fields through the entire season, CSA members commit to receiving shares for several weeks—or months—at a time. Know Your Farms has memberships ranging from four weeks to six months, while Poplar Ridge Farm sells shares for a half season (11 to 12 weeks) or a full season (22 to 24 weeks). It's also important to watch for deadlines. "Some CSAs are so popular that their shares sell out almost as soon as information for the next season is posted," Brighton says.
Cost: Purchasing a CSA membership costs about the same as shopping for local produce at the farmers' market (Know Your Farms offers small, medium, large, and organic boxes with costs ranging from $18 to $38 per week, while the fees at Poplar Ridge Farm average $39 per week). Unlike the farmers market, where you pay for the items you buy at each visit, most CSAs charge shareholders up front. "If the whole payment for the season seems too much to pay up front, it can never hurt to ask if the farmer would take smaller payments over time," says Brighton. Some farms, including Poplar Ridge, offer volunteers shares in exchange for help on the farm. Ask if the CSA you're considering has options to reduce the cost through a work share.