Special Delivery
Good Kitchen brings healthy meals straight to your door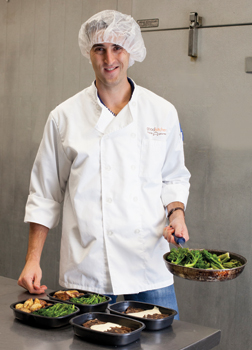 Busy Charlotteans looking for quick, healthy meals have a new option: Good Kitchen. The new, membership-based concept prepares and delivers fresh, fully cooked dishes to several Charlotte neighborhoods, from uptown to Ballantyne.
Owned by Greg McIntosh and Matt Shait, Good Kitchen pairs restaurant-quality meals with a focus on healthy foods. If McIntosh's name sounds familiar, it's because he is the former owner of the popular McIntosh's restaurant, which closed in 2009.
Good Kitchen's customers pay $19.95 for monthly memberships, which include free deliveries and other perks, or they can order à la carte, plus an $8 delivery fee. They can choose from four different menus—organic and vegan, healthy balanced, comfort, and family style—that allow them to customize meals to specific dietary needs, including vegetarian and diabetic-friendly dishes. Options include grass-fed Asian flank steak with a vegetable stir fry and brown rice ($28.95, serves two), Yukon-crusted halibut served over ratatouille ($29.95, serves two), and vegan black bean burgers with Spanish brown rice ($17.95, serves two).
"One of the things we like to show people is that comfort food can be healthy," says McIntosh.
But Good Kitchen is also focused on the health of its community. It shares a kitchen with Friendship Trays, the local Meals on Wheels affiliate, and donates a portion of its proceeds to the charity.
"We're not looking to replace the entire [grocery] shopping experience," says McIntosh. "We want to take out the hectic part of the week for people. No shopping. No clean up. It's easy." 704-293-4767, goodkitchennc.com