Spice Up Your NYE Decor
Customize plastic stemware for easy cleanup without sacrificing style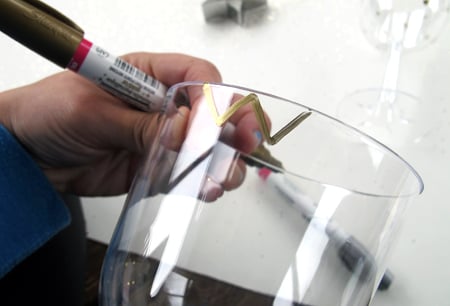 New Year's Eve often looks a bit different after having children, but it can still be a lot of fun! Last year we invited friends over to our home to bring in the new year. The kids played and the adults drank a little champagne. It was a win for everyone.
Below is a simple tutorial for customizing plastic stemware at your next holiday party, whether it be small or large. It will help your guests remember which glass is their own, and you could make extra glasses for children to celebrate with sparkling grape juice, too! Plus, no hand-washing is necessary—just rinse and recycle!
Supplies
Plastic stemware found at party or craft supply stores
Metallic sharpie markers found at discount or craft supply stores
How To
Plan a few patterns for your stemware, then freehand draw the pattern on each glass. Polka dots, triangles, and swirls are all easy to complete with no measuring necessary. The marker design will dry quickly. With adult supervision, children can help create their own too. Fill and enjoy!