"Spooky" Drinks for Halloween
More spicy than scary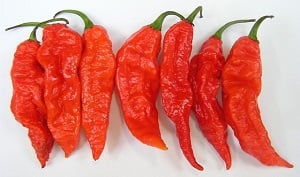 Halloween: A holiday for candy, costumes, and all things scary. Luckily, lots of restaurants in Charlotte embrace the "scarier" side by offering drinks laced with some very spicy ingredients. For those of us who aren't afraid to dive in head first, here's a list of some concoctions that'll have you embracing the dark (and spicy) side:
Passion8: This eatery just opened on Elizabeth Ave. after a long move from Fort Mill. On their totally redone drink menu you'll find the SC Reaper Cider. This devilish concoction is a combination of Dickel Rye, local cider (made in house, actually), clove, ginger, lemon zest, thyme AND pepper syrup made from the SC Reaper Pepper … you know … the insanely hot one. Good luck.
The Summit Room: The restaurant inspired by a mountain climb has an equally scary dare in store for bar patrons: try the Aconcagua; a combination of cachaca (a liquor made from sugarcane juice), fresh squeezed lime sour, muddled jalapeños, and ghost pepper syrup. Yes, ghost peppers are the peppers that cooks frequently wear FACE MASKS while handling. Mwahahaha.
Block & Grinder: Maybe not quite as bold as a ghost pepper, but the still zingy anaheim pepper is present in the Chupacabra – a mixture of One 80 Vodka, passion fruit, lemon, and the anaheim pepper syrup.
Halcyon: The sister restaurant of Fern is well-known for its truly artistic cocktails. The spicy peach toddy mixes summer heat and fall chills with a combination of mulling spiced peach juice, Mystic Honey bourbon, and cayenne pepper.
So, if you're feeling daring and want something scary good, try one of these four cocktails this Halloween (or anytime, really).