Spring in Your Step, or Plate
Tis the season for warm weather ingredients at 5Church, Vivace, BLT Steak, and Barrington's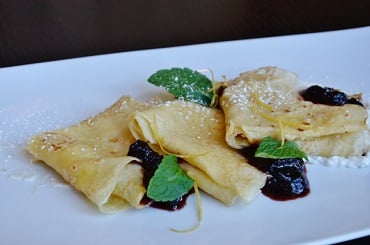 Wondering where to find the latest spring menus around town? 5Church, Vivace, Barrington's and BLT Steak just rolled out menus to celebrate the warmer weather. Both Vivace and BLT Steak are introducing new brunch menus while 5Church and Barrington's have rolled out new springy dinner offerings.
5Church: Chef Jamie Lynch has designed several new entrees for the dinner menu including the below highlights, which include new dessert additions by pastry chef Hannah Neikirk. Our favorites include:
A delicious brined grilled pork tenderloin with leek potato puree, confit tomato, asparagus, eggplant agrodolce, natural jus. The pork is insanely tender and the eggplant is a sweet foil for the savory dish.
Pan roasted NC Tile Fish with creamed Carolina gold rice (which eats much like a risotto), fricassee of peas, carrots, sweet onions, romaine lettuce, smoky beurre blanc
Coconut lime mousse (pictured) with blackberry poached pineapple, mango, toasted coconut shortbread. The mousse is impossibly light yet custardy and will make you feel like you're in the Keys.
Seared Brown Butter Pound Cake with grilled peaches, raspberry jam, vanilla gelato terrine, toasted almonds. Butter makes everything – even pound cake – that much better.
---
Vivace: Beginning Saturday, May 2, Vivace will begin serving its Sunday brunch on Saturdays as well as Sunday. The announcement comes along with a few new dishes to liven up the breakfast/lunch meal – traditional dishes and the Bloody Mary bar will remain:
Parmesan polenta with shrimp, garlic, shallots, roasted tomatoes

Fried oysters with grapefruit crema and shaved celery

Mushroom frittata with shiitake, crimini and oyster mushrooms, Tuscan kale and goat cheese

Eggs in purgatory: a poached egg, Amatriciana, pancetta, chili over grilled rustic bread

Lemon ricotta crespelle with lemon curd and blueberries
---
BLT Steak: Along with a new patio set to open in time to enjoy the weather, BLT Steak will roll out a new brunch menu on April 19, available Sundays from 11am to 2pm. Along with the new offerings, BLT Steak also plans to debut table side Bloody Mary, Bellini, and Mimosas:
Homemade granola with plain yogurt and local berries
Fit burrito with egg whites, peppers, onions, black beans, and spinach
Shrimp and stoneground grits with preserved lemon and basil
The BLT Popover with ham, eggs, bacon, spinach and hollandaise
---
Barrington's: The Moffett brothers' restaurant in Foxcroft has also introduced some spring-appropriate fare. Pop over to sister restaurants Good Food on Montford and Stagioni as well for dishes featuring ramps and Fiddlehead ferns. At Barrington's:
A spring pea soup featuring a ham and cheddar crouton, shaved radish, and smoked olive oil
NC Trout served alongside lemon risotto, poached shrimp, asparagus, and shrimp broth
NY strip steak with a creamy poached egg, potato rosti, frisée and breakfast radish salad, and rosemary demi
Enjoy the tastes of spring!