Spring Menus Blooming
5Church unveils a new seasonal menu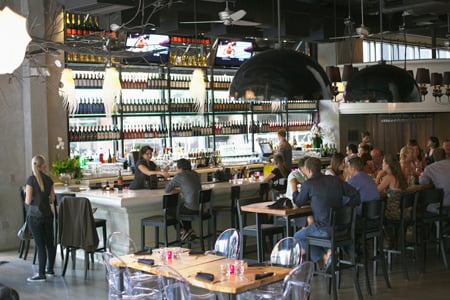 Although it kind of moderately pains me to write about spring after being teased by 75-degree temperatures Saturday then forced to endure 30-degree chills this morning, 5Church and its team have ignored all that and unveiled their new spring menu on Friday night.
The trendy eatery's culinary team will still highlight local and seasonal ingredients, per usual, but the menu will be transformed to showcase all things spring. Signature dishes like the Prime '60 Second' NY Strip Steak and the 5Church Lamb Burger will remain, but newcomers like a wild strip bass with glazed new potatoes, spring vegetables, and American caviar will have a spot on the menu. Also in the seafood category, a roasted monkfish with fingerling potatoes, pearl onions, bacon lardons, white mushrooms, and a shellfish bisque will be featured.
On the more "turf" side of things, duck confit pierogies with caramelized onions, sweet pea emulsion and shallot dust are a very fresh and springy option. If you're a traditionalist, check out the additions to the Steak & Chops section, including a filet mignon, a heart of ribeye chop, and the 28 day aged Kansas City strip steak.
5Church, along with Japanese robata restaurant BAKU was recently honored as a top restaurant in the nation, as voted on by OpenTable's reviewers.