Start a New Tradition
Barbara Green of Sensibly Chic offers 5 different decorating ideas that go way beyond red and green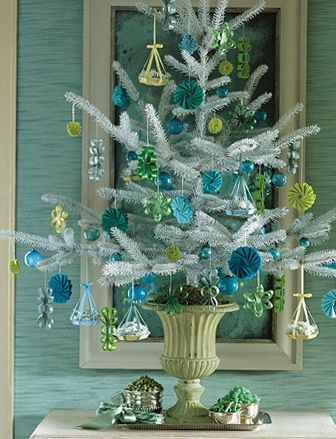 Whether you're tired of the same old decorations in the same old places, or you've moved into a new house and want to start brand new traditions all your own, these tips from Barbara Green of Sensibly Chic offer out-of-the-box ideas. The best part: They can be implemented quickly and cost effectively, which are important qualities for last-minute decorators.
1. Broaden your color palette. Barbara Green decorated her Plaza Midwood studio in blue, green, and gray this holiday season. "People are taking personal liberties with their decorations and having fun with it," she says. While red and green are traditional Christmas colors, blue usually represents Hanukkah. For couples and families with a mix of different cultures, using different colors helps everyone feel at home no matter what holiday he or she celebrates
2. Purchase a colored Christmas tree. One way to incorporate different colors is to purchase one item as the focal point and build around it. Many home goods and craft stores carry artificial trees of multiple colors. One of Green's friends bought a black tree and covered it with silver ornaments to match her decor. And don't count out secondhand stores, such as the Habitat for Humanity ReStore and Goodwill, for decorations; sometimes people get rid of items they no longer want that are still in good shape.
3.
Mix metals. A couple of years ago at the furniture market in High Point, Green and other designers were introduced to "gilver," a color that combines gold and silver. If you incorporate "gilver," you can then use it as a bridge to use silver and gold pieces together. Copper is also a popular choice for holiday decor. The mixed-metal palette also looks nice through the New Year. Green recommends filling a glass bowl with mixed metal ornaments, placing it in the center of the table, and running ribbon down the length of the table for an easy, elegant tablescape. "It looks like you fussed," she says, "but it was a piece of cake to put together.
4. Pick a theme. Snowmen, reindeer, and Santas are all popular items to theme your decor around. You can theme an entire room or use the selected item as a recurring piece throughout your home. You can also specifically theme your Christmas tree. Wide, mesh ribbon is popular in craft stores at the moment, Green says. She's seen some people use red to cover the entire tree. Then they tied black ribbon or a scarf around the middle for a belt, attached a white feather boa to the bottom for trim, and added a Santa hat for a Santa Claus Christmas tree.
5. Create something homemade. Sometimes people worry so much about the finished product that they forget to have fun in the process. Spend an hour or two with the kids or a quiet afternoon by yourself and make an ornament or centerpiece. Use branches and greenery from your yard or repurposed materials, such as wine corks, for an affordable, personal accessory. Each year when you pull out the decoration, you'll enjoy remembering the time you spent crafting it.