Staying Clean: Can the Niners Stay Out of the Mud?
UNC Charlotte is launching a football program just as scandals are becoming increasingly common among the NCAA's big-time programs. Where will Charlotte stand?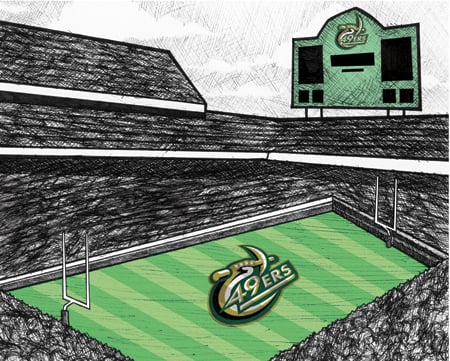 Four years ago, Phil Dubois bought a new credenza for his office at UNC Charlotte. Crafted of a handsome dark wood, it is big enough that if stood on end its height would nearly match that of a good-sized defensive tackle.
Dubois, the chancellor, purchased it as he was pondering whether his university should add a football team. During a stretch of six months, he estimates he spent half of his working hours on the issue, weighing everything he could unearth about the pros and cons, amassing so many reports and surveys and analyses that he needed extra space to store them.
Now, with preparations afoot for the first game next year, Dubois is intent that neither he nor his successors ever have to endure a major NCAA investigation of football-related wrongdoing—improper recruiting, boosters who give money or other perks to players, coaches requiring their teams to practice more than is permissible, transcripts that are altered to make it appear that a prospect meets eligibility requirements, and term papers written for athletes, not by them.
Watch ESPN's SportsCenter and you'll hear that stuff over and over. An NCAA probe can bring embarrassing publicity to a university and significant penalties to its athletic department, and it generates bulging files of documents, records, and forms. Dubois doesn't want to buy more furniture to house such flotsam and jetsam. He likes his
office as it is and his school's reputation unsullied.
Certainly, it's not the ideal juncture to launch football. The sport's recent self-inflicted wounds—head-turning scandals at Southern California, Ohio State, and Miami—have given more ammunition to those who question its role in academe. The nation is stumbling through an epic economic downturn, and, as a result, state funding for higher education in North Carolina and elsewhere has shrunk, igniting crises for many universities. At the same time, the costs of big-time sports are soaring; critics of that trend range from the Knight Commission on Intercollegiate Athletics to students whose fees are raised to help make up the difference. Meanwhile, the tectonic plates of college sports are shifting unpredictably, thanks to the influx of princely sums from television contracts, the realignment of conference membership (musical chairs, anyone?), and dissatisfaction with the NCAA as an organizing structure. Plus: seems as if every month a study emerges about the traumatic impact of football on players' long-term health.
But Dubois and UNC Charlotte can make a good case for their decision. Football will strengthen the university's relationship with the city and the region, attracting, it is hoped, alumni who haven't been on campus since cap-and-gown day and throngs of people who've never before visited. Moreover, because college sports are careening toward a not-so-distant future in which schools with ambitious football programs wind up with even bigger advantages—benefiting from that television money, belonging to the most visible conferences—the argument is that it's clearly best to avoid being among the have-nots. As higher education evolves into an increasingly competitive endeavor—witness the jousting for enrollment among traditional public and private colleges, their satellite campuses and online-learning programs, and the new for-profit schools—enlivening student life with the spectacle of football offers an edge in maintaining the flow of tuition checks.
All of which puts us back in Dubois's office. It's where he evaluated those pros and cons, and it's where I'm interviewing him about his next challenge with football—ensuring that it creates only positives for UNC Charlotte, not a black eye. His jumping-off point is his university's pristine history over four decades of Division I sports: "We've never had a major NCAA violation, and I can't think of any violation here that was other than accidental." In saying that, he doesn't sound defensive or arrogant, merely resolute. I start to suspect that he's a realist.
His eyes are wide open about the perils. He knows that policing his newest sport is trickier than basketball or lacrosse or golf because a football team has so many more players and coaches. He watched last year as UNC Chapel Hill, which has an athletic department long regarded as exemplary in its standards and practices, began facing allegations of nine major NCAA violations in one-time coach Butch Davis's program. He understands that the careers of university chancellors and presidents have been toppled by football-oriented difficulties.
A couple of glimpses into Dubois's life underscore the double-edged sword that is football. He's friendly with former Penn State President Graham Spanier, who resigned in November after a grand jury charged Jerry Sandusky, the defensive coordinator for twenty-three years before retiring in 1999, with forty sex crimes against youths. Though that dwarfs the worst imaginable transgression of NCAA rules, it is a cautionary tale about the unexpected ways in which powerful football programs can turn problematic. On the other hand, Dubois's sons attended Penn State, and he's delighted by how their experiences were in part shaped by those autumn afternoons at Beaver Stadium. "My boys loved Penn State," he says, "and football was part of the glue that held the student body together."
I didn't expect to talk with Dubois, who has been chancellor since 2005. To report on how UNC Charlotte would stave off improprieties in football, I asked the athletic department's public relations staff to schedule several interviews for me. I thought the response might vary from sidetracking delays ("All of their schedules are really full for the next six weeks") to deflection ("Why do you want to focus on the negative?"). The school is enthusiastically anticipating the arrival of football, and nobody likes precipitation on their marching bands and floats.
Instead, within days I had appointments to see Dubois, athletic director Judy Rose, football coach Brad Lambert, and Chris Thomasson, who's in charge of the school's NCAA compliance operation. My experience is that people in healthy and effective organizations evince a comfortable willingness to talk about where things could go astray. An acute awareness of potential problems is often the largest part of dodging them. Props to UNC Charlotte for openness and to Dubois for setting that tone.
This is a good place to mention a few things I haven't broached. (1) Despite the breathlessness of SportsCenter's reporting on NCAA infractions, they're not felonies, just cheating; they reflect a lack of integrity or wrong-headed priorities, but more egregious tales are heard daily in every criminal court. (2) UNC Charlotte will first compete in what's called the Football Championship Subdivision, which, for example, is the division where Appalachian State and James Madison play; schools such as N.C. State and Clemson are in the top-level Football Bowl Subdivision, home of more intense expectations that often give rise to larger transgressions. (3) Inevitably, the community and alumni will urge UNC Charlotte to move quickly to the FBS, where the big boys play.
In the long run the school's fate boils down to a series of fleeting moments in which the right choice must prevail.
So Dubois has been scratching things off his to-do list. He's installing safeguards and working to expand a culture that has valued playing by the rules, even as the pressure to win at football, and to move up the sport's food chain, inevitably heightens. New computer software that monitors how many telephone calls coaches place to recruits—a trouble spot for a lot of schools—was purchased with $30,000 from his office's budget, not the athletic department's. Twice a year, Dubois assigns an internal auditor to assess one dimension or another of athletic operations; you can wager that a decent share of those reviews will target football. Dubois personally considers each of the athletic department's "special admits," the exceptions to normal entrance requirements that most schools use to land certain prized recruits; football, with rosters numbering more than eighty players, usually has more of those than any other sport. He also implemented a recent suggestion from UNC system President Tom Ross to all his chancellors that the compliance department have a dotted-line reporting relationship with the university's general counsel.
Ultimately, despite whatever procedures he devises, Dubois has to trust individuals to adhere to the NCAA's standards, and his. "Nothing's foolproof," he says. "You can think you're hiring people who are committed to the rules, but in the heat of competition—how should I put it?—they could go south. When I was interviewing candidates for football coach, I asked one about minimum academic criteria for recruits. His answer was, 'If you don't admit them, you'll end up playing against them.' And I was done with him."
Dubois has confidence in Rose. She has been athletic director since 1990, more than half of the school's years in Division I, and its record of conforming to NCAA regulations is more her doing than anyone else's. These days, she worries about the downside of the welcome influx of boosters triggered by football; two-thirds of the seat licenses at the 15,300-capacity stadium rising on campus went to people who hadn't before supported the athletic department and aren't steeped in how strictly NCAA rules define their roles, e.g., they can't buy a player's personal game tickets from him or even give him a ride home. "We do a good job with boosters," she says, "but I don't know how you do a great job. You don't have any control." Says Lambert, the football coach: "People ask me, 'What can I do?' and my response is, 'You can't do anything but wear green and come to games.'"
Rose regards hiring Lambert as a giant stride along the high road. She was impressed by his eleven seasons on the staff of Wake Forest coach Jim Grobe, so respected for his principles that he has been chair of the American Football Coaches Association's ethics committee since 2006. "I cannot count," says Lambert, "how often he told us, 'We're not going to bend the rules, and we're not even going to get near the edge.'"
Thomasson also has a to-do list, and nearly every day it includes familiarizing himself with the latest bulletins about changes in the NCAA's 426-page rulebook. As an associate athletic director who specializes in compliance, he heads a three-person team—two before the advent of football—that lives and breathes with that arcane manual, which, for instance, outlines when snowmobiles are permitted in entertaining recruits. "Everything in the book," says Thomasson, "is in there because somebody used it to gain what somebody else thought was a competitive advantage."
His forte is getting the word out on the legal and illegal. Thomasson runs a variety of training sessions—"Mondays with the Manual" is a monthly seminar for coaches on some aspect of NCAA regulations—and he compiles a regular newsletter for athletes. He meets with teams at the end of the spring semester to extend reminders on what's proper in summer competition and how to avoid entanglements with agents who are eager to sign clients before their amateur eligibilities expire. He created "Compliance Jeopardy," in which players who've attended his presentations on the rules shout out questions for the answers he poses. (A: Four. Q: How many tickets for a game can a school give to an athlete?)
Thomasson, with UNC Charlotte since 2005, now will focus on football as his staff takes responsibility for the rest of the athletic department. He'll watch and listen, examining the telephone records, staying in touch with tutors and trainers and anyone who's up on athletic department scuttlebutt, seeking the wispy trail of even minor violations. "It's hard," he says, "to be the bad guy and go to a coach and tell him that a player of his has gotten an extra benefit and will have to miss games until it's repaid."
Of course, many universities dodge catastrophic troubles with football, but the risk is perpetual. I think Dubois has put the people in place to hold to the straight and narrow for the present, and I believe their legacy will influence the football program as it grows. But in the long run the school's fate boils down to a series of fleeting moments in which the right choice must prevail, even when the team went 2-9 the previous season. Will an assistant coach decide against making one too many calls to a tight end he wants to sign? Will a linebacker reject an overzealous booster's offer of five Benjamin Franklins? Dubois hopes so.
He and I are wrapping up our discussion. As an undergraduate, Dubois made Phi Beta Kappa at the University of California Davis, an hour's drive east from UC Berkeley. There, former chancellor Clark Kerr once famously said that the formula for a successful university was sex for the students, parking for the faculty, and football for the alumni. When we shake hands, Dubois mentions that quote.
Now, I'm sure that he is a realist.