Staying Safe with Backyard Fireworks
Happy Fourth of July!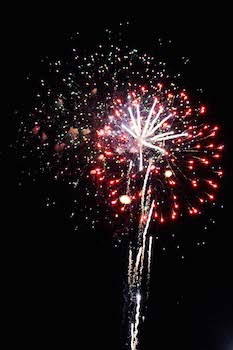 If you're shooting off fireworks in your backyard tonight, follow these tips for a safe, fun event.
The U.S. Consumer Product and Safety Commission lists several pointers for fireworks safety.
*Never try to relight or pick up fireworks that didn't fully ignite.
*Don't point or throw fireworks in the direction of people or crowds.
*Keep a bucket of water or hose handy.
*Light fireworks one at a time.
The National Council on Fireworks Safety also gives these recommendations.
*Purchase fireworks from a reliable source.
*Make sure you point fireworks away from buildings and vehicles.
*Soak spent fireworks and sparklers in a bucket of water before discarding.
If you're throwing a party tonight, check out our earlier posts from the week for menu ideas and tips on floral arranging for your centerpieces.
Happy Fourth of July!