Steph Curry.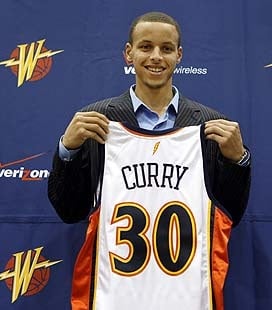 This morning, when I got up, my cell phone was already vibrating. Seems I had a few text messages left over from the night before. Late the night before.
Seems a good friend of mine was sitting in his car in the driveway listening to an NBA game on XM radio. At 1 in the morning. It was a Warriors-Clippers game, which is about as unremarkable as it gets in terms of NBA matchups. But Steph Curry plays for the Warriors, and he was having a big night. The last text I got from my friend:
"Yessssss! Curry grabs a rebound with 1 second left. 36/13/10!!!!!!!!!!!"
Translation: Steph Curry got a rebound to give himself a rare basketball feat, the triple-double. That's when a player obtains double figures in three statistical categories. Curry had 36 points, 13 assists, and 10 rebounds. The only other rookies in NBA history to garner triple doubles: Jason KIdd, Michael Jordan, Jerry West, Elgin Baylor, and Oscar Robertson.
Earlier today, my friend, with whom I watched Curry play many many times, sent this email:
"On the way home from Chapel Hill [he had gone to the UNC-Duke game], I turned to the Warriors game on XM radio. It was early when I turned it on, Curry already had 8 of the warriors 11 points. The guys riding with me could not believe they were listening to an NBA game, and a game between the warriors and clippers no less. They were drunk, I was sober, and it was my car. At the end of the first, curry had hit 5 threes, had 17 pts, 5 reb and 5 assists. It was going to be a special night.
I sat in my driveway listening to the rest of the game (did not bring my computer home for video). It was late but I could not turn the radio off. Curry finished with 36 pts / 13 assists / 10 rebounds / 3 steals picking up the 10th rebound just before the clock expired. The announcers and the crowd inside Oracle arena went wild as I did in my driveway at 1am on Thursday morning.
It reminded me of how special Curry was at Davidson and how blessed I was to have seen him play for the Wildcats. Probably not another player like him at Davidson in my lifetime. I was proud, overjoyed and sad at the same time."
That eloquently sums up how Davidson fans feel about Curry.
Michael Kruse's excellent story for www.charlottemagazine.com last May on Curry's difficult decision to go pro: "See Stephen Go"
Excellent postgame interview with Curry.
Highlight's from the game last night (trust me, worth watching, Curry fan or not):
And here's the postgame interview. Notable because fellow Charlottean Anthony Morrow is interviewed alongside him.