Strawberries, Tomatoes, & Nights in the Garden
Local classes and events invite you to experience springtime at its best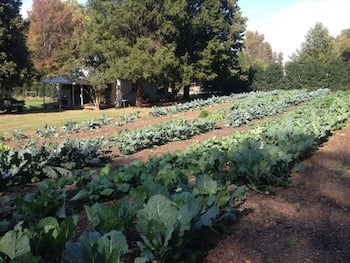 Springtime in Charlotte is a beautiful time to take advantage of outdoor opportunities both in the city and in surrounding towns.
Beginning this month, Daniel Stowe Botanical Garden will be open late on Thursday evenings throughout the summer for Garden Nights. From 5 p.m. to 9 p.m., visitors can enjoy snacks, beer, and wine along with a special program. During ZimSculpt, which is an African sculpture exhibition that continues until July 12, the exhibition's curator and his wife will lead a guided tour at 7 p.m. and the artists in residence will perform their craft throughout the evening. Admission to the event is included with regular garden admission. For more details, click here.
This Friday and Saturday, the Charlotte Regional Farmers Market celebrates Strawberry Days. Purchase a basket or bucket of these red jewels as they reach peak season, and enjoy some free strawberry ice cream on Friday, May 15. On Saturday, May 16, there will be a special focus on strawberry items, such as jams, jellies, and pastries. Click here for more information.
On Saturday afternoon (May 16) from 2 p.m. to 5 p.m., Windcrest Farm in Monroe offers its Top Tips for Terrific Tomatoes class. Owner Mary Roberts will lead attendees on a tour of the certified-organic fields and greenhouses. She will then share some of her secrets for growing ripe, flavorful tomatoes. The class is $15 to attend. Click here for details.
Once you master tomatoes, head to downtown Matthews next week for Renfrow Farms' classes on companion planting. Did you know that a plant's health can be affected by what's next to it, or not next to it? Jeff Rieves, a former N.C. Cooperative Extension agent, will share his knowledge of what to plant where on Tuesday, May 19, from 6:30 p.m. to 8:30 p.m., and again on Wednesday, May 20, from 10 a.m. to noon. The classes cost $20 per person or $30 per couple. Children younger than 16 years old can attend for free with a paying adult. Click here to register.