Strawberry Rhubarb Panna Cotta
Pastry Chef Ashley Boyd's panna cotta makes good use of spring's colors and flavors.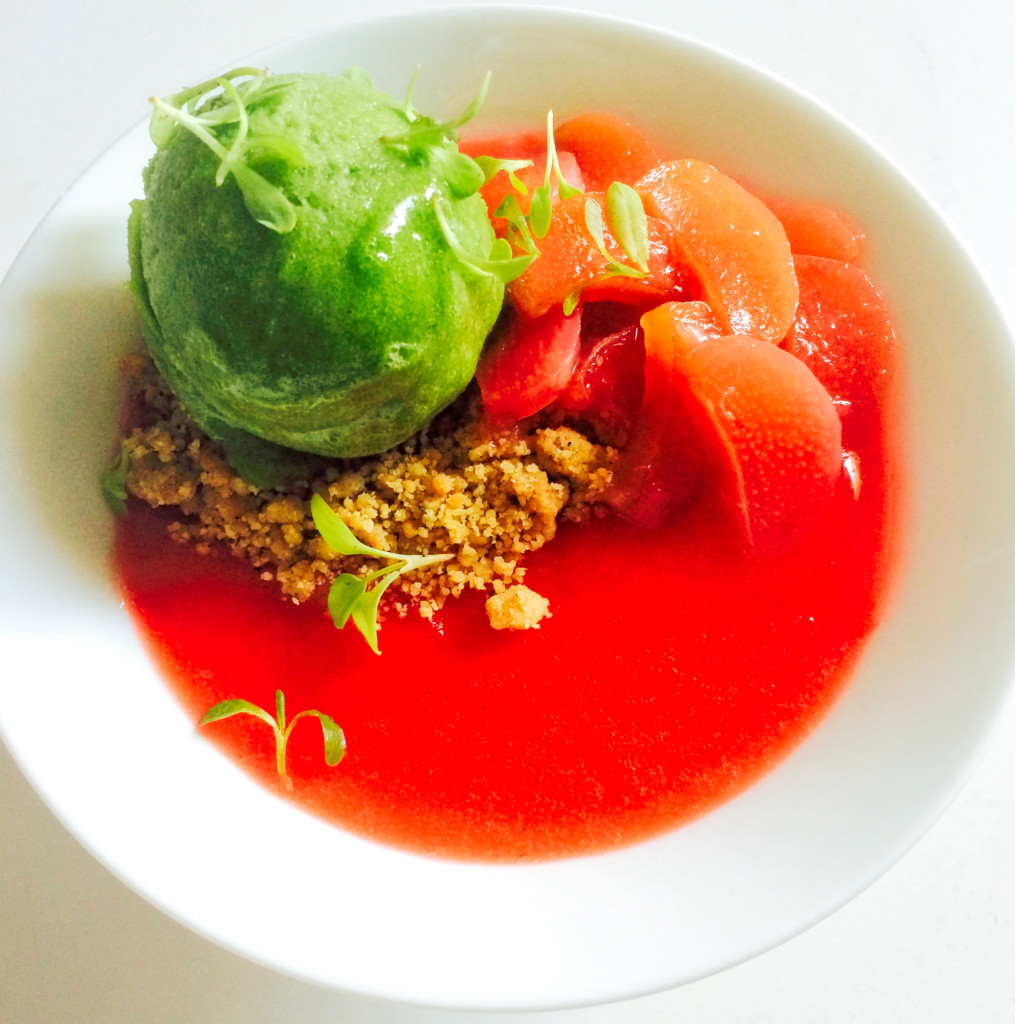 Strawberry and rhubarb are a classic pair, most often found around these parts stuffed inside a golden pie crust. The sweet-tart combination is hard to resist, particularly in the spring when you're naturally craving brighter flavors. Bunches of rhubarb and buckets of strawberries are showing up at area farmers markets, so we asked Pastry Chef Ashley Boyd of 300 East and Heritage if she was doing anything special with them.
She certainly was, and shared her recipe with us. Boyd's springtime panna cotta also makes use of sorrel, a green herb with a delicious tangy flavor. You can also find sorrel at local farmers markets. While the recipe is long, the steps are easy, and home cooks can choose to simplify as time allows, making only the sorbet and streusel, or making only the panna cotta and gelée.
Those who prefer to skip the cooking altogether can just visit 300 East and order this dish, which the restaurant just listed on the menu.
Yogurt Panna Cotta With Strawberry Gelée
Makes six 4-ounce servings
1 1/2 cups heavy cream, divided
7 tablespoons granulated sugar
1 ¼ teaspoons powdered gelatin
1 cup plain yogurt
Sprinkle gelatin over 1/4 cup of cream and let sit until gelatin softens.
Combine remaining 1 1/4 cup of cream and sugar in medium saucepan and bring to simmer. Remove from heat and whisk in gelatin mixture.
Cool to body temperature and whisk in yogurt. For an extra smooth panna cotta, process in blender on medium-low speed for 1 minute.
Ladle 1/2 cup of the mixture into each of the 6 glasses or bowls. Chill until set, at least 4 hours.
STRAWBERRY GELEE
1/2 pound strawberries
1/4 cup granulated sugar
1 teaspoon powdered gelatin
Purée strawberries in a blender until smooth, then strain to remove seeds. Sprinkle gelatin over 2 tablespoons of the purée. Allow to sit until gelatin is softened. Combine remaining purée and sugar in small saucepan and heat until sugar is dissolved and mixture is hot. Remove from heat and add gelatin mixture. Whisk until gelatin is dissolved.
Cool to body temperature and pour over chilled panna cotta, dividing evenly among the 6 dishes. Chill until set, at least 1 hour.
POACHED RHUBARB
1 cup sugar
1 cup water
1/2 lemon, sliced
2 stalks rhubarb, sliced 1/4-inch thick
Bring sugar, water and lemon to simmer and add rhubarb. Bring back to simmer and immediately remove from heat. Let sit one minute, remove from syrup with slotted spoon, cool rhubarb and syrup separately and then store fruit in cooled syrup.
BUCKWHEAT STREUSEL
1/2 cup buckwheat flour
2/3 cup all-purpose flour
7 tablespoons granulated sugar
1/4 teaspoon salt
6 1/2 tablespoons butter, room temperature
1 teaspoon vanilla extract
Preheat oven to 350°F.
Combine dry ingredients in a stand mixer using the paddle attachment. Add butter and mix until crumbly. Remove bowl from stand and add vanilla, tossing by hand until distributed.
Spread on a baking sheet and bake, stirring occasionally, until golden and crunchy. Break into small crumbles or pulse briefly in food processor to break up large chunks. Store in an airtight container until ready to use.
SORREL SORBET
1/2 pound common sorrel
1/4 cup water
1 1/2 cups sorbet syrup
Pinch salt
Pour water into a blender. On low speed, add sorrel leaves a handful at a time until all have been incorporated. Cover blender with lid and turn speed to high, blending for 30-45 seconds or until completely liquefied and smooth. Strain through a fine-mesh strainer, pushing all liquid through strainer and discarding solids. Measure out 1 cup of juice.
To the cup of sorrel juice, add 1 1/2 cups syrup. Season with a pinch of salt.
Process in ice cream machine and freeze until firm. Best served within a day.
Sorrel Syrup
1 cup water
1 1/4 cups sugar
Combine water and sugar into a small saucepan. Bring to a boil, then cool and chill overnight before using.