Streaming Films, TV Shows Shot in Charlotte: January 2021
Options on Netflix, Amazon Prime, Freeform, and Hulu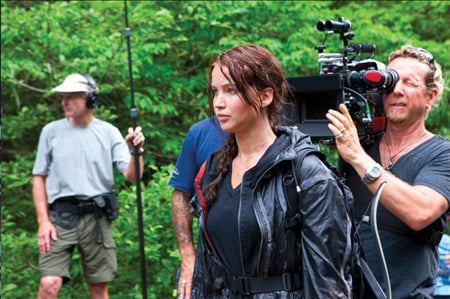 OVER THE YEARS, Charlotte's been used as a backdrop for several major films and TV shows. If you're a subscriber who wants to see your city's cameos, here are the ones streaming right now on Netflix, Amazon Prime, and Hulu:
---
AMAZON PRIME
Shallow Hal
Local spots featured in this film include Fuel Pizza on North Tryon Street, Freedom Park, the former Pike's Soda Shop in South End, and Latta Arcade in uptown. Neighborhoods covered include South End, uptown, SouthPark, and the town of Concord.
Ashby
This 2015 film, starring Mickey Rourke, Nat Wolff, Sarah Silverman, and Emma Roberts, used thousands of Charlotteans as extras. Filming locations included South Mecklenburg High School and Plaza Midwood.
Logan Lucky
Logan Lucky This heist film uses the Coca-Cola 600 race at Charlotte Motor Speedway as its backdrop. And the filmmakers used the real thing to pull it off.
Banshee
The Cinemax show Banshee used Charlotte to represent an Amish community in Pennsylvania. Also like for spots in Mooresville and Waxhaw on the show.
The Rage: Carrie 2
This horror sequel was filmed entirely in Charlotte. According a fan site about the film: "An 11,000 sq. ft. house was built on the floor of Charlotte's old convention center (soon to be a shopping mall) in the heart of downtown. The house … was completely destroyed for the climactic party scene."
---
NETFLIX
Bad Grandpa
This Johnny Knoxville film was partially shot here, with a memorable scene in front of the now-closed The Penguin in Plaza Midwood. This means many of the folks getting pranked in the film are actual Charlotteans, too.
Wild Wild Country
This riveting docuseries about Rajneeshpuram has a surprising cameo from Charlotte. Read more about that here.
---
FREEFORM

Hunger Games
Two spots were primarily used here. Knight Theater: The theater was used as the setting of the tribute interviews. In the book, tributes are residents of the districts of Panem between the ages of twelve and eighteen. Those chosen as tributes are forced to participate in the annual Hunger Games, where they'll eventually fight to the death, until only one remains. Old Philip Morris USA Plant in Concord: Most of the filming in the area took place at this 2,000-acre site, which is rumored to have been used for Capitol scenes.
---
TNT/TBS
Talladega Nights: The Ballad of Ricky Bobby
The Will Ferrell and John C. Reilly comedy was also shot partially at Charlotte Motor Speedway. Also, the titular racer's homestead used an actual Lake Norman house.
---
HULU
Shots Fired
Primarily filmed in Kannapolis, this TV miniseries on Fox also had scenes shot in Concord, Charlotte, and Mooresville. The show follows a DOJ investigation of a police shooting of an unarmed teenager.
Homeland 
There were a few years there when you may spot Claire Danes or Mandy Patinkin around town. The spy thriller series ended up leaving town for season four, opting to shoot in Cape Town, South Africa. But if you keep your eyes peeled over those first couple seasons, you'll find several Queen City locales.
---
HBO MAX
Nell
Jodie Foster and Liam Neeson star in this 1994 drama, following a woman that enters the world after being raised in isolation. Foster was nominated for both an Oscar and an Academy Award for the film.