Stretching the Space
Six of our favorite additions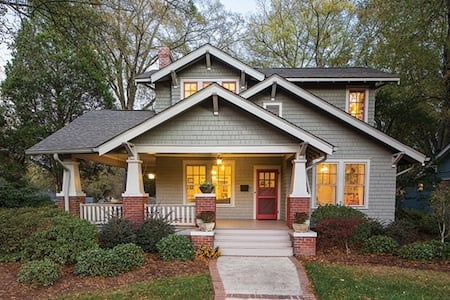 As families outgrow spaces, home owners encounter tough decisions about moving or making additions. These six families decided to stay put and expand their kitchens, bedrooms, or family rooms to suit their needs. Click on the photos to read the full stories and see additional pictures from Charlotte Home + Garden.
The second story. Many historic-home owners are uneasy about the idea of adding a second story to their structure. But Brandi and Chris Stigliano worked with architects at Studio H to create a fitting addition to their Plaza Midwood bungalow. Their second story includes a sitting area, office space, and master suite with a spacious bathroom and walk-in closet.
Photo by Logan cyrus
Kitchen transition. Interior Designer Kelley Vierigg and her husband, John, loved their neighborhood and location in Myers Park, but their 1,900-square-foot structure was too small. The 144 square feet of kitchen space was especially limiting. They opened the kitchen to the family room and added doors and windows that lead to the backyard, providing natural light and a convenient pathway for outdoor entertaining.
Photo by chris edwards
Room to work. Malin Pereira and her husband, Ernest, are avid entertainers. They called on architect Kent Lineberger to redraw and expand their kitchen. The oversized island, large farm sink, Dacor stovetop, and surrounding countertop give them space to cook as a team.
before and after photos courtesy of kent lineberger
A place to play. The 1,050-square-foot addition to the back of this 1950s Foxcroft ranch was inspired by the family's German heritage, world travels, and three daughters. Architects with Dialect Design dubbed it a "climbing library." It includes a series of steps, seats, and recessed shelves leading to a second story with walls of windows.
photo by chris edwards
Garden room. The Smith family wanted a large, single room in their Myers Park home where the entire family could gather and guests could visit with them while they cooked. Architects at Pursley Architecture removed the existing sunroom and added a 696-square-foot garden room with 10-foot ceilings and a concrete-paver floor.
photo by chris edwards
Opening things up. John and Megan McCann fell for this 1940s home in the Dilworth Historic District, but it required a whole-house remodel to accommodate the family of four. Most of the work happened in the kitchen. Architect Ray Sheedy expanded the kitchen's footprint by 100 square feet and created a patio just outside. The glass doors leading to the patio and screened porch allow for lots of natural light. Sheedy also extended the roofline, raising the ceiling to 18 feet at its peak.
before photo, courtesy; after photo by logan cyrus