Studio Redo
Home + Garden and Charlotte Magazine contributor redesigns her husband's studio on a tight budget and time frame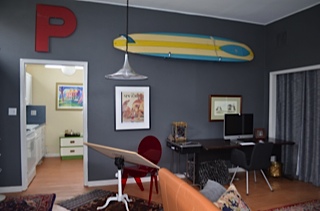 When Laurie Prince's husband left on a recent Monday for a business trip to Atlanta, he had no idea what she would be up to while he was gone. She had been planning to redesign his studio at their Mint Hill home for months. She measured the 15×17 space. She searched key terms on Craigslist: "modern" and "midcentury modern" and "leather." She hunted through stores in town, such as Sleepy Poet, Habitat for Humanity ReStore, Classic Attic, and the Assistance League Thrift Shop. She hid her finds in the barn on their property under drop cloths and cardboard boxes and hoped Phil wouldn't notice.
Laurie has no professional design credentials, but she often writes about style and design for several publications, including Charlotte Home + Garden and Charlotte Magazine. She covers a variety of projects, many of them high-end with near limitless budgets. But with this project, she sourced many of the light fixtures, rugs, stools, pillows, and other accents from secondhand sources.
"I love all kinds of design," Laurie says, "but for my personal pleasure, I do enjoy mixing old and new."
She did all of the planning, purchasing, and installing herself. Her sister and a couple of other family members did lend a hand to help her complete the room in three days. The result is an eclectic space filled with vintage finds, personal mementos, and repurposed items.
When Phil returned from his trip, Laurie told a little fib to get him into the space.
"He's very even keeled," she says. "He never goes off the charts. I said, 'This time I'm going to get him.' I told him, 'Hey, I think we have a leak back here in the back kitchen.' He was walking behind me thinking something was wrong with the kitchen. … He stood in shock and looked around. He was literally speechless."

This is the studio before the renovation. Laurie saved and reused several elements.

Laurie moved the bookcase, so it is the
first thing you see when entering the
room. She also painted it black. She
consulted the folks at Eastway Paint
about what type of paint to use.
---

The light fixture that anchors the seating area came from a midcentury dealer in Richmond, Virginia. Laurie found the Natuzzi couch and large Oriental carpet on Craigslist.
---

An antique prayer rug anchors the drawing table area. Laurie made space for high-tech design and work done by hand. The surfboard was a present from Laurie and the children for Phil's 50th birthday.
---

Laurie repurposed this round table, painting the top with chalkboard paint and sewing a skirt from leftover linen. She found the stools at Habitat ReStore; they were once in Discovery Place.