Stuffed Shells in Butternut Squash Sauce
A savory pasta recipe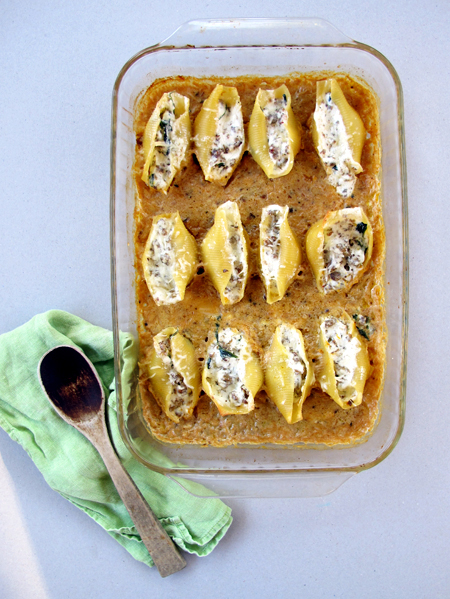 This time of year, I am on the hunt for recipes that adapt to busy weeknights and easily reheat for the next day. This pasta dish passed with flying colors! I was inspired by a recent visit to The Bradford Store. They had a variety of local squash, and I decided to work with butternut. There are several steps to the recipe, but you can easily break them up. I precooked my squash and sausage mixtures, and refrigerated until ready to blend with the remainder of the recipe.
This is a hearty dish, but not overwhelming. The roasted squash flavor definitely pulls through, and the garlic pairs nicely with the sausage mixture.
Stuffed Shells in Butternut Squash Sauce
Serves 3-4
Adapted from A Household Almanac
1 butternut squash, peeled and cubed
1 onion, sliced
3/4 cup milk
3/4 cup vegetable broth
1 lb mild sausage
2 cups fresh spinach
3 cloves of garlic
12-16 jumbo shells, cooked al dente
15 oz ricotta
Olive oil, salt & pepper, parmesan to taste
Instructions
1. Preheat oven to 400 degrees Fahrenheit. Arrange onion and squash in an even layer on baking sheet. Drizzle with olive oil and season with salt and pepper. Roast for 25-30 minutes, turning once with a spatula.
2. Cook sausage over medium heat. Once browned, add spinach and garlic. Cook just until spinach is wilted and remove from heat.
3. Add roasted squash and onion to food processor. Pulse until a puree forms. Cool, then stir in vegetable broth and milk. Pour butternut squash sauce into base of a 9-inch-by-13-inch dish.
4. In a mixing bowl stir together sausage and spinach with ricotta. Add filling to cooked pasta shells. Arrange shells in butternut squash sauce in the baking dish.
5. Cover baking dish with aluminum foil and bake for 30 minutes at 350 degrees Fahrenheit. Remove foil and top with parmesan cheese, bake for 15 additional minutes. Serve warm.