Stumbling Across a Hero
On a nearly forgotten yet historic stretch of Trade Street, there is an eccentric house. Inside lives a somewhat eccentric man, who just happens to be a hero of the civil-rights movement. Meet J. Charles Jones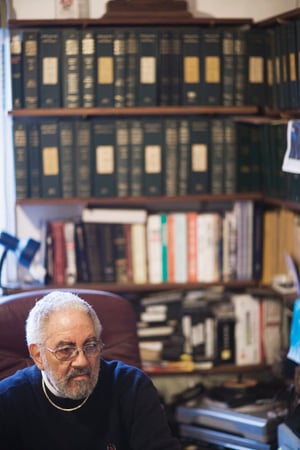 This story starts with a house. It's a crazy, beautiful, historic house, and I discovered it by accident.
In front of Johnson C. Smith University is a spot known as Five Points. Beatties Ford Road, Fifth Street, Rozzelles Ferry Road, and Trade Street all come together here. Trade seemingly comes to an abrupt halt, giving the impression that it either ends here or changes to one of the other roads. After a gap of a few dozen yards, however, Trade Street continues on the other side, beyond a wrought-iron fence that was erected in the early 1990s. You just have to spend some time looking for it.
It's worth the effort. The neighborhood streets there are lined with turn-of-the-twentieth-century bungalows and shotguns; you won't find the likes of many of these anywhere else in the city.
While I explored the area one day, one house caught my attention. It sits on a triangular corner lot bordered by Trade and Solomon streets, and there's a weathered sign that pays homage to Lena Horne at the eastern point of the property. But that's not what drew me in. The house on West Trade Street looks like a subtropical compound—part house, part botanical garden. Expanded on both sides with horizontal panels to create an interior-exterior garden and topped off with a second floor that comes to an almost steeplelike point, it vaguely resembles a pyramid shrouded in wisteria, which has grown unchecked for so many years it has shrouded much of the house, creating a living porch roof for the portion of the structure that faces the street.
The home was built in 1910 as a simple shotgun house. Over the years, however, it has evolved into something that bears no resemblance to the shanties that were prevalent in poorer Charlotte communities in the first thirty years of the twentieth century. A sign at the edge of the property lists the resident as J. Charles Jones, Attorney-at-Law. I couldn't resist a visit to the library to learn more.
Turns out, Jones has had quite a life. In the early 1960s, he helped lead the civil-rights movement in Charlotte. Largely responsible for the counter sit-in demonstrations that took part throughout the many uptown restaurants that refused to serve African Americans, his actions captured the attention of local press and then the eyes of the world. In later years he would go on to be a professor at Johnson C. Smith, a successful attorney, and a friend and benefactor to many Charlotte residents.
But I wasn't satisfied with what I learned at the library. I had to meet the man, and so I gave him a call. He said he'd be glad to entertain me at his unusual home.
At the appointed hour, Jones promptly appears at the front door in an impeccably starched white shirt, offset by comfortably faded denim jeans. Whitish-gray hair and a close-cropped beard frame his lively face. He escorts me through the left portion of the original structure to the attached greenhouse covered by the sloping roof. In addition to creating an environment for plant and animal life, he has developed a passive solar energy system that can power the home, which he shares with his wife, Jackie. The house has been an ongoing project for both of them for more than three decades.
"Thirty years ago I began anticipating this time in my life," he tells me. "This past August I turned seventy-three, and I did not want to work to continue to pay Duke Power to have a meter just rolling around. So I thought I'd go to the source. I'll go to the sun. We designed this passive solar concept years ago, before anybody ever even talked about all this going-green business."
Jones is an emphatic man. He speaks with an urgency that draws you in to his every word, regardless of the topic, though his tone is tempered with a warm demeanor and frequent bursts of spontaneous laughter. He exudes confidence, yet evinces humility before the magnitude of the world around him. Surrounded by lush greenery and the sound of moving water mixed with classical music, I almost feel like I'm watching a stage performance.
Momentarily distracted by a pond of massive koi that are thrashing about, waiting to be fed, Jones changes topic midsentence.
"I'm going to feed you in a minute," he says with a chuckle, addressing the fish. "You know, I have to say, these fish negotiated early on a very, very good life for themselves. The agreement was, 'We'll swim around and look pretty as long as you keep us fed.'
"There comes a time when it gets a little warmer and I like to slide down in the water with them. And they say, 'Hey, what's up, bro? You bring any food?'
" 'No, I'm just hanging out,' I tell them.
" 'It's fine, it's all good. Good to see you again. Come on in here,' they say."
B. B. Delaine was a classmate of Jones's at Johnson C. Smith. Delaine's family was one of the plaintiffs in the South Carolina court case that eventually led to the landmark Brown v. Board of Education Supreme Court case. "Charlie was a friendly guy, but kinda weird," Delaine says. "Charles was a visionary and his mind was always jumping to things that other students didn't think of. He was highly intelligent and sort of tuned in to a different level."
On the night of February 8, 1960, Jones, Delaine, and others met with classmates at Johnson C. Smith to let them know they planned to go to the downtown Woolworth and order lunch.
Unlike other cities, where civil-rights demonstrations resulted in violence, Charlotte had a guarded response. From an article in The Charlotte Observer: "The police were polite, City officials were polite, the students were polite."
The sit-ins and protests continued and the work that began with that first lunch-counter demonstration eventually resulted in citywide desegregation in all businesses, including restaurants, hotels, theaters, and more.
"I'll never forget that," says Jones. "After meeting with the other Johnson C. Smith students, I expected maybe ten or fifteen. Around 300 people showed up."
Local reporters were quick to talk with Jones, who had captured their attention just days earlier for his involvement in a National Youth Summit Conference held in the Soviet Union. "They knew who I was and they wanted to talk with me," he recalls. "I wanted to let people in Charlotte know that we were cool and nonviolent, but that we weren't going away until we had achieved the desegregation of area restaurants."
"Charlie was involved in a lot of programs outside of Charlotte and national programs," Delaine says. "When I say he was a visionary, I have to add you better catch that idea or movement while it was on the table because he was quick to move on to other visions.
"He was shrewd enough that once he got the idea of what he wanted to do, he came to recruit me because he thought I had a better relationship with the Johnson C. Smith student body and the administration. … With the help of so many other students at Smith, we worked well together and accomplished a lot in the movement."
In 1961 Jones joined a group of college students and activists known as the Freedom Riders. During a meeting in Atlanta, he and other members of the organization heard that a group of Friendship College students in Rock Hill, S.C., had decided to sit at a lunch counter, get arrested, not pay the bail, and spend thirty days on the chain gang. The act of civil disobedience came to be known as "Jail, No Bail."
"When we heard about it in the Atlanta meeting, we decided we had to join them," Jones recalls. Jones and a handful of others traveled to Rock Hill. (One member of the group was Charles Sherrod, whose wife, Shirley Sherrod, former Georgia director of rural development for the U.S. Department of Agriculture, was forced to resign after a conservative blogger alleged she made racist comments at an NAACP meeting in March 2010. After a review determined her comments were taken out of context and in fact she was making the opposite point, she was offered a new position by the Obama administration, which she declined to accept.)
After sitting at the lunch counter as planned, the sit-in participants were arrested and sentenced to thirty days of hard labor on the chain gang. "We were shoveling wet sand from the creek bed onto dump trucks and busting up rocks," says Jones as he launches into song and jumps from his creaky office chair and into a spry jig. "That's the sound of the men, working on the chain, gaayaang." He falls back into the seat, laughing.
"We would be loading twenty-five or more dump trucks, and other prisoners would be loading just six or seven. They couldn't figure how we were doing so much! We were just laughing and having fun.
"You know if you're gonna do it, you choose and commit yourself to an act and the consequences of it. Then you accept it and embrace it. Incorporate the same energy the slaves did into picking cotton and singing."
After the thirty-day sentence, the two men and a number of other detainees, including two women held at a different facility, were released. Says Jones: "We all got out and there was a mass meeting at the Presbyterian church. We were welcomed as heroes!"
Following Jones's return to Charlotte and Johnson C. Smith, a local representative of the U.S. military induction unit called and told him he was not a student in good standing and that he was required to report for service.
"Her name was Miss Brooks, I recall. She said that I would have to report for duty because I spent thirty days away.
"It was interesting because back then black men did not challenge white people naturally, and would not challenge white women in public, because things could get kind of, you know. The next day in The Charlotte Observer, though, the president of Johnson C. Smith said he determined who was a student and who was not. Over a two-year period, the debate continued and eventually President John F. Kennedy weighed in. He said he had determined that Mr. Jones is a conscientious objector and will not be required in the military. That put the matter to rest."
As the 1960s progressed, Jones was arrested many more times and often faced threats of physical violence. His wife, Jackie, who worked with him for several years as a paralegal before their marriage, recalls a later time when both faced threats of violence.
"Charles was trying to clean up the neighborhood, trying to get the absentee landlords and the drug dealing element out. People threatened to kill us and it was very upsetting to me. Charles just kind of shrugged it off and said, 'Bring it on, then.' Then he told me if somebody really was going to kill us then they wouldn't tell us they were actually going to."
The two met when Jackie was a student at Johnson C. Smith in 1978, though they would not marry until 1985. Twenty-five years later, their partnership is still going strong. "I've always been impressed by his compassion for those less fortunate," says Jackie Jones.
At seventy-three, one can hardly say Charles Jones is retired. In 2008 he appeared in a cameo role in the film Gospel Hill, alongside actors Danny Glover and Angela Basset. He serves as the chairperson for the Biddleville/Smallwood/Five Points Neighborhood Association and continues to travel and lecture about his involvement in the civil-rights movement. "I may be getting older," Jones says with a gleam in his eyes. "But I'm still out there getting it done on my end, and I still care about all the people."
In his role as neighborhood chairperson, Jones sees a bright future for the area he's called home for more than sixty years. "Our goal is to make this a community where all people can live together. Black, white, gay, straight. We want to recapture that cohesive concern people used to have for each other.
"We looked out for each other back then, and I think we can still do that today."
A previous contributor to this magazine, David Aaron Moore is the author of Charlotte: Murder, Mystery and Mayhem (History Press). A native of Charlotte, his works have also appeared in Our State, Creative Loafing, The Atlanta Journal-Constitution, and Atlanta Magazine.
Email: editor@charlottemagazine.com