Style: Accessories Designer Maggie Gavigan Smith
She keeps her Southern sensibilities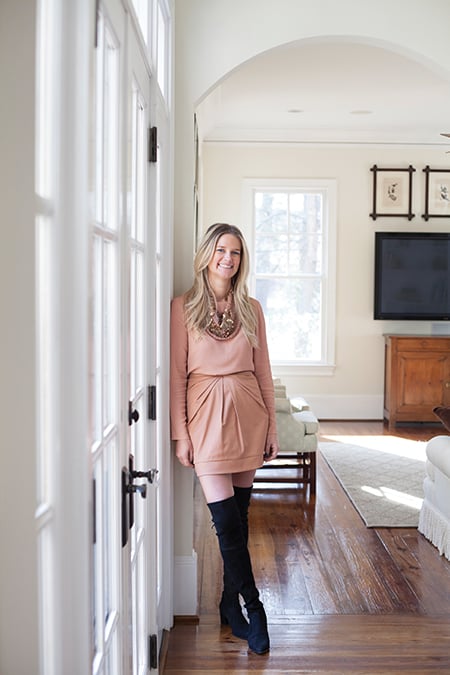 IT'S EASY TO IMAGINE Maggie Gavigan Smith in the thick of New York's fashion scene. Confident and tall, with cascades of blond hair, flawless skin, and clear blue eyes, she's navigated the sample room of Marc Jacobs, designed shoes for Rachel Roy, and made a home in Tribeca, the priciest neighborhood in Manhattan. Yet despite more than a decade in America's style capital, she's kept her Southern friends and remained grounded by humor. Take the time she went to Vogue, for example, to show her eponymous accessory line, Mignonne Gavigan. She and her best friend from UNC Chapel Hill days, Kinsey Fennebresque (who helped Tory Burch get started at Burch's apartment), had landed meetings with the fashion magazine's editors.
"Kinsey and I were in the Vogue elevators, riding up to go to the (appointments), and we just started talking to whoever was in the elevator. 'How's your day going?' or whatever. They were like, 'Whoa, you guys are not from here.'" She giggles as she recalls the reactions to their friendliness. She says growing up in Charlotte—her family moved here when she was two—has kept her balanced in a place where ambition is often more important than people. "We really try to have a positive, friendly environment that builds people up and doesn't tear people down or make them feel small," she says of her company.
Her earrings, bracelets, and necklaces, worn by such celebrities as Jessica Biel and TK Quann, explode with color and shimmer with beads, tassels, sequins, and feathers. With clients ranging from young to old, in Dallas to Dubai, who shop Neiman Marcus to side street boutiques, her appeal crosses racial, cultural, and generational lines.
As a high school student at Charlotte Country Day School, she was intent on a career in art. Her parents—her father's a doctor and her mother's a lawyer—convinced her to broaden her studies in college. She finished in Chapel Hill with a bachelor's degree in political science, and then returned to art studies at the Sorbonne in Paris, followed by Parsons School of Design in New York, where she earned a fashion degree. She began working in New York in 2004, learning the business before going out on her own in 2014. With her accessory line now carried by 160 stores internationally, the strategy has paid off. So has her friendly Southern style.
Original Art // Friend Kate Long Stevenson, a Charleston artist, made this sketch of Peter Rabbit for Gray and Maggie Smith's son, Fields, who turns one this month.
Statement Earrings // The Madeline earrings are one of Mignonne Gavigan's best sellers.
Small Things of Beauty // At home in Tribeca, Smith uses this pretty Herend dish from Elizabeth Bruns to hold rings. The Charlotte jewelry store carries classics such as Herend (Queen Victoria was an early customer) and modern lines such as Jaune de Chrome.