STYLE: Carrie Tucker's Bloc Bags
She turned a side hustle into a business that gives back—and caught the attention of Nordstrom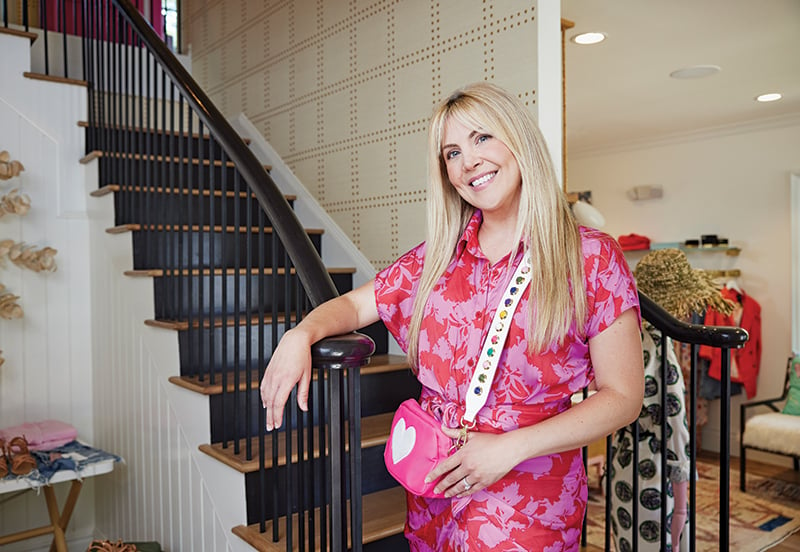 A few hours before we speak in late June, Carrie Tucker appeared on the Home Shopping Network with her latest collection of crossbody and cosmetic bags. "I totally bombed," she says with a laugh. "I read the itinerary wrong, I had the wrong bag, and I left there thinking, What did I just do?"
She tells me this from her home at Mountain Island Lake, where her two boys, 7 and 3, interrupt periodically to ask for a snack or show her a LEGO masterpiece. She has about an hour until she has to take them to the dentist; later, once they're asleep, she'll complete a factory order for Nordstrom.
This is the first time Tucker, 38, has spoken about her Nordstrom partnership with anyone beyond her closest family and friends. By the time this issue hits newsstands, Bloc Bags will be available in 14 Nordstrom stores nationwide and on the Nordstrom website. They'll start in flagship locations like New York, Seattle, Boston, and Los Angeles; if they do well, Bloc Bags will soon be available at SouthPark Mall.
Tucker was still debating if or when to announce the news on social media. "Part of me won't believe it till I see it," she says. "In meetings, they'll say, 'We can see this in the store.' Then you hold your breath and think, Are we gonna get the purchase order? Is this gonna come through? But by August or September, you'll see us in the stores."
In fall 2020, Tucker and her mom, Poppy, decided to earn money and fill time during COVID by opening an online retail store, The Bloc Collective, to sell other brands' clothes and accessories. A few months later, Tucker says, she read an article about the dire circumstances of young people in foster care.
"It was something I always thought about, but after I had my boys … I just couldn't imagine what it feels like to not have a family," she says. "I read the statistics of youth in foster care and how they were showing up to new homes with their lives stuffed in garbage bags. That just broke my heart."
She and Poppy redirected themselves away from The Bloc Collective and began to focus on designing and making their own bags with playful motifs and colorful, interchangeable straps. They rebranded as Bloc Bags and launched in summer 2021.
At the time, Tucker worked as a nurse practitioner for Atrium Health. She took time off after the birth of her first son but felt compelled to go back in the early months of COVID. She'd see patients through a virtual home service clinic during the day; at night, she designed bags.
"I needed to fund the business and didn't want to take out a loan or have an outside investor," she says. "I used all the money from work to buy materials." She visited local boutiques like Sloan, Poole Shop, and Girl Tribe Co., and all began selling the bags. By summer 2022, she says, Bloc Bags were taking so much time and energy, she had to quit her nurse practitioner job.
For every bag she sells, Bloc Bags donates one of its specially designed toiletry bags to a foster care nonprofit; the business donates to numerous organizations in 15 states, including groups in high-need Texas, California, and Florida. It's one of the reasons Tucker wanted to work with Nordstrom, which each year awards millions in community grants that provide necessities to young people and their families. She pitched her bags to multiple Nordstrom representatives, then waited for months to hear back.
Tucker learned she'd need a vendor rep, the fashion equivalent of a literary agent, to get in front of buyers. Her vendor rep helped get Bloc Bags on HSN in early 2022, and Tucker assumed the business would take off after that. "But that wasn't my experience," she says. "Nothing has been, like, 'This happened, and then we went viral.'" She took them to Los Angeles that summer, but every store she visited turned her down. "After the third one," she says, "I walked back to my car and thought, I'm in the Valley, selling bags out of my trunk. What am I doing?"
She drove straight to the Nordstrom store at The Grove, a high-end shopping center near Beverly Hills, and tried to keep her goal in focus. "I had sunglasses on, since I was crying," she says, "and a salesgirl came up to me and said, 'Oh my God, I love your bag!' This was after being told no one in LA will ever buy my bags."
Tucker took a video of her as she praised Bloc Bags and predicted customers would buy them, and Tucker sent it to a Nordstrom buyer. She says she doesn't know if the video is what caught Nordstrom's attention, but six months later, the company got back in touch.
As of June, Bloc Bags had donated more than 7,000 bags to youth in foster care. Poppy and another local seamstress still sew their smaller collections, but they also rely on the work of another family venture overseas—a father-daughter soft-goods manufacturing business in China—to keep up with demand. Tucker also plans to add duffel, travel, and evening bags to her collection and "dial up" her accessories.
She still goes on HSN about once a month, but she's no longer afraid to fail. "You can't win 'em all," she says. "You just work so hard, people can't ignore you."
TAYLOR BOWLER is the lifestyle editor.