Style: Catching Up With Roxy Te of Society Social
The founder and creative director embraces 'granny chic'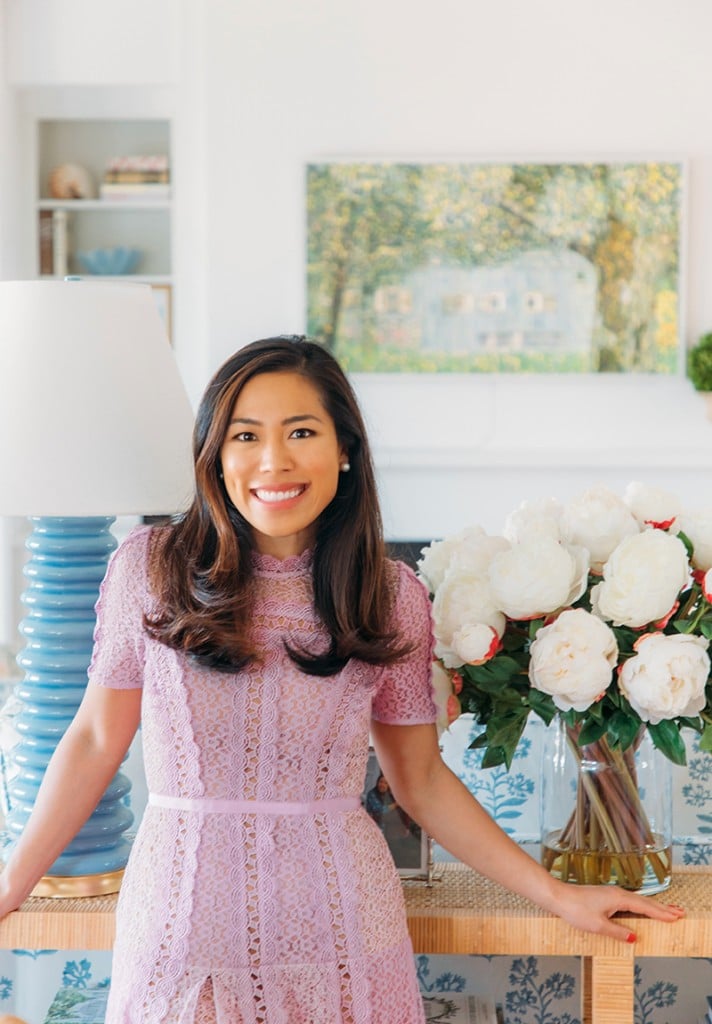 Roxy Te has immersed herself in furniture design almost from the moment she was born. She lived in her family's first furniture factory in the Philippines until she was 2, when her parents immigrated to North Carolina. As a teen, she spent summers working in her parents' office in Conover and attended the High Point Market every fall and spring. Te pursued a career as a fashion buyer after her 2007 graduation from Parsons School of Design in New York City. But when she realized cubicle life wasn't for her, she returned to her roots. In August 2011, at 27, she launched her own furniture line, Society Social.
Her collection of sorbet-colored accent chairs, grass cloth dressers, rattan bookcases, and Scalamandre pillows grew from an item many of us overlook: the bar cart, which she's made a signature item for her brand. "(It's) a very social piece of furniture," she says. "The name Society Social came about because the social aspect of furniture infinitely inspires me."
The 37-year-old mom to Austen, 3, moved back to North Carolina in 2018 after 10 years in New York. She opened Society Social's first storefront in Atherton Mill in late 2019 but lives in Hickory, where she can be close to her factory and manage the company's product development and e-commerce. Her playful, Instagrammable aesthetic combines classic design and traditional silhouettes with a "fresh, colorful, and feminine spin," she says, "or granny chic, if you will."
With her small, edited collections, Te stands out from national brands like West Elm, Pottery Barn, and Serena & Lily, which often mass-produce their items and offer limited color and upholstery options. Her team of artisans and craftsmen can customize nearly any piece with customers' preferred finish, fabric, or accents like tassels, piping, and scalloped hems.
Te says her dream is to design a hotel, or a "destination by the sea," and in the meantime produce two new furniture collections a year. Most days, she bounces around the factory in her workout clothes, taking meetings, checking on new pieces, and styling product shots in the on-site photography studio.
"Working in the male-dominated furniture industry, in a small town in the South, as a woman business owner, minority, and person of color, I'm very aware that I have to work twice as hard to prove myself," she says. "There aren't a lot of people who look like (my daughter) where we live, in management positions no less, so it's important to me to be that person to her."
THREE THINGS I CAN'T LIVE WITHOUT
The Calm App
"I listen to it while I'm getting ready in the morning, usually for about 10 minutes. It's helped with my anxiety and stress."
305 Fitness
"This was my favorite gym when I lived in New York—there was a DJ and light show, like a dance party. They launched an app, so I can do it at home now."
Clevr Lattes
"I've been trying to cut down on caffeine, and these are amazing. It's my little sip of luxury to start my day."