STYLE: Diamond Brown of Diamond's Body Care
From the pieces of an upended life, the founder and CEO found a new home and thriving career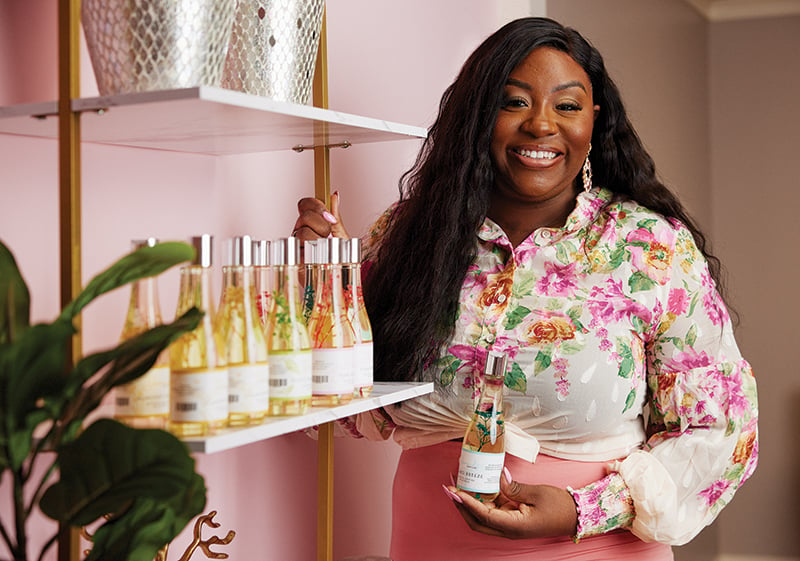 Diamond Brown moved to Charlotte from Detroit six years ago, coming off a painful upheaval of her life and career. She wanted a fresh start, and she was ready to expand her skin care business in a city with "more like-minded people."
At one point, it seemed to Diamond that her life was laid out for her, and a skin care business was nowhere in the picture. She had adopted a baby with her high school sweetheart, purchased a home in Detroit, and was studying to be a registered nurse. But her husband, Darrell, was sick, and a discovery she made during his treatment would alter the course of her life.
Diamond and Darrell were already together when he was diagnosed with pulmonary sarcoma in 2007. The two married anyway, as Darrell continued his cancer treatment. Diamond managed his care for almost five years. "After chemo and radiation, his skin became very scaly and dry," she says. "Nothing we put on it was working. So I went online and researched natural plant-based products and how to make them."
She started experimenting and formulated a shea butter that improved his skin within one week. "A lot of people associate chemo with hair loss, but no one talks about their skin," Diamond says. "Every person I spoke with said, 'I didn't know what to do. Oncologists are focused on keeping me alive, but they have no advice for what to do about my skin.'" She shared samples with other patients and nurses in the oncology unit, and she says everyone who used them saw improvement.
In 2011, at age 29, Darrell died. Diamond stopped making her shea butter.
"I thought, What's the use? It was just for him," she says. "But those nurses started calling, saying that my product was impacting their patients' skin. Darrell's nurses passed it along to burn victims, too, and it worked!"
After sleeping in the hospital with Darrell for weeks at a time, Diamond no longer wanted to work in the medical field. Instead, she worked in the marketing department of a Fortune 500 company and continued to make her skin care products on the side. "My dad painted a room in my house pink, and I used it as a lab where I made my products," she says. "It was my healing process, helping other cancer patients that were still alive."
In addition to that shea butter, Diamond developed organic body scrubs, massaging bar soaps, and botanical body oils with plant-based ingredients like jojoba oil, avocado oil, and vitamin E. She labeled and bottled each one and packaged them in pink bags with her Diamond's Body Care logo. "I started doing trade shows and realized it was a hit when I was in Atlanta at the Women's Expo and sold out of everything," she says. "If these products work for chemotherapy patients, just imagine what it does for people with regular skin."
In 2017, Diamond moved to Charlotte. As a real estate investor, she still owned properties in Detroit, and Charlotte was an easy flight from Michigan. "I also wanted to get away from the snow," she laughs. "(Charlotte) was growing so fast; it's a city where I knew I could thrive and grow. I worked for an excellent company with good benefits and pay, but as far as my passion, it's always been formulating products."
By 2020, she had resigned to pursue Diamond's Body Care full time. She moved into an office space in South End but had to expand after about eight months. "I got another suite, then another, and soon I had five suites," she says. She leased a 2,200-square-foot warehouse in Bessemer City and added three full-time employees. "I don't want to mass-produce; I want to keep the integrity of my business," she says. "We had to get the machinery to help us push it along, but it's still a small-batch operation."
Last year, Diamond approached management at the JW Marriott uptown about selling her products at their rooftop Kentucky Derby party. They declined, but the spa director invited her to meet with their staff and show them her body care line. They hired her to formulate a custom product for their spa services and retail area.
Diamond's next pitch was to Walgreens, but the spa director at JW Marriott warned her they could no longer work with her if she took a purchase order from the pharmacy store chain. "He said, 'You don't see Chanel in Walgreens. I consider your products to be the Chanel of body care.' So I had to make a decision." She turned Walgreens down.
Just one year later, Diamond's Body Care has partnerships with Kimpton Hotels, Canopy by Hilton Charlotte SouthPark, and Charlotte Douglas International Airport. Diamond continues to donate 10% of her proceeds to cancer survivors to honor Darrell's memory.
"I'm taking an untraditional route," she says. "The dream for most body care brands is to get into Sephora, Target, or Walmart. That was my initial approach. Then I realized that's not my lane. High-end hotel spas and airports are my lane. How much more foot traffic can you get from the airport? That's an untapped market. So I'm going one airport at a time, one hotel at a time."
TAYLOR BOWLER is the lifestyle editor.