Style: Interior Designer Holly Hollingsworth Phillips
Born on Christmas Day, she breaks with tradition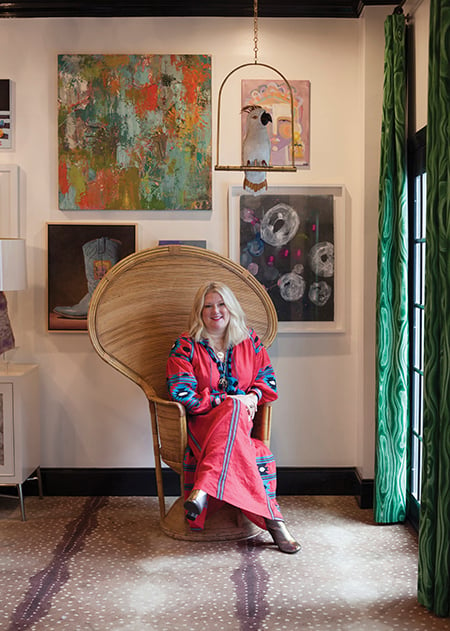 HOLLY HOLLINGSWORTH PHILLIPS will not be going home for Christmas. The Eastover interior designer and owner of The English Room was born on December 25—thus her nickname, Holly. "I have never been anywhere other than my house or my parents' house, ever—and my parents live on Museum Drive, in the house that they built in 1962," she says; her office is walking distance from their home. Her birthdays and Christmases have been wed to geography for 46 years. But this year, she'll be in Italy.
Violet, her 16-year-old daughter, is a student there. Phillips and her husband of 20 years, along with their two younger children, will travel to see Violet, arriving in central Italy on December 24. They'll unpack in a 15th century villa guesthouse and dress for Christmas Eve dinner with strangers. "Which will be a complete culture shock—we will have an Italian Christmas," she says.
For someone who's never spent Christmas anywhere but with her parents in the house she grew up in, such a change could cause waves of nostalgia and sadness. Not for Phillips. Adventurous, fun-loving, and design-focused, she embraces discovery. Her Instagram account, which has grown to 55,000 followers, documents her eye for beauty—a rainbow of flowers, architecture, abstract art, and patterned textiles.
She has an uncanny knack for special finds, an asset in a profession that's losing ground to DIYers. The guesthouse in Italy is one of them; Christmas will mark her second time there. In her unpretentious manner, she explains, "I just totally lucked into it. I found it on Expedia." The price was moderate, and she booked it for several days this past September. When she walked in, she was immediately suspicious. "It is this crazy-beautiful guesthouse, and it's stunning," she recalls. Once situated, she went online and began researching. The owner, she says, is the Martha Stewart of Italy.
This Christmas, when she celebrates what her mother calls "Holly Day," she may miss the homemade cheese braid and gifts under the tree in Eastover, but for a woman who embraces adventure, there's one gift she's sure to receive: inspiration, Italian-style.
---
Bernstein Glass Tumblers // Handing this glass to a party guest is sure to bring a smile. Katherine and William Bernstein have been making these tumblers with hand-drawn faces in sparkling colors since the 1980s. Their glass studio is near the Penland School of Crafts in western North Carolina—they came in the late 1960s to become artists-in-residence, built a log cabin, and stayed.
Italian Olive Oil // Everyone needs olive oil, but this hand-painted bottle from Frantoio Muraglia is pretty enough for the kitchen counter. Phillips discovered it during her September trip to Italy and ordered lots for Christmas presents. If you have rainbow envy, don't worry—Williams Sonoma carries it.
Olympia Le-Tan Handbags // Phillips goes to Capitol in Charlotte for book clutches by Paris-based designer Olympia Le-Tan. This bold felt-and-embroidered eye on radiating beams honors Japanese artist Tadanori Yokoo.