Style: Jesse Cureton of Novant Health
He used to march in Charlotte's Thanksgiving parade—then he saved it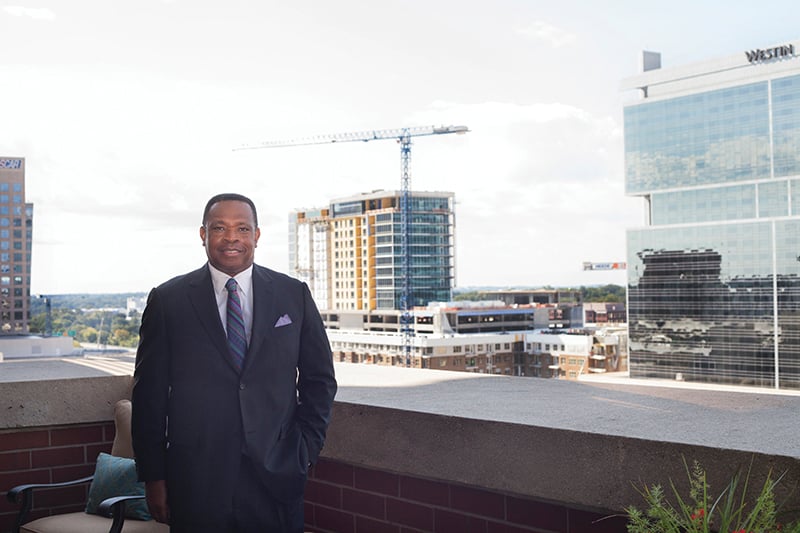 WHEN THE NEWS ANCHOR announced the 2013 Thanksgiving Day parade had been canceled, Jesse Cureton couldn't believe it. It was a Charlotte institution; he'd grown up going to the parade.
The graduate of West Charlotte High School, who'd strutted Tryon Street his senior year as the marching band's drum major, who'd watched the parade from the same corner year after year with family and friends, wasn't going to sit by while tradition disappeared. He started calling people.
Cureton saved the parade four years ago, persuading his employer, Novant Health, to become its primary sponsor. The hospital system had just rebranded under Cureton's leadership as chief consumer officer, and he was looking for new ways to support local communities. Underwriting the parade made sense. He also had many connections among the city's elite, serving on the boards of some of Charlotte's most prestigious institutions, including the Bechtler museum and Gantt Center. He's warm, relaxed, visionary, and clear-minded in a crisis. Growing up in a large, church-going family, he gained a strong sense of community, of people doing things together.
He met his wife, Angela, when they were undergraduates at UNC Chapel Hill, and they share a bond that is easy to see. Two of their three daughters have graduated from college; soon they'll be empty-nesters in their Waxhaw home. To enjoy their newfound freedom, the Curetons purchased a condo at The Ratcliffe two years ago, working together to remodel it. The outcome is stunning: a glamorous, art-filled space of enviable comfort. Their pied-à-terre during the work week, it has a spacious balcony overlooking some of their favorite museums: the Gantt, the Mint, and the Bechtler. An ideal location, in fact, to watch the Thanksgiving parade march north on Tryon Street.
But they won't be there. They'll be with friends and family, down in the stands.
Art and Music // A glass and metal saxophone by French artist Yves Lohé captures two of Cureton's passions: art and music. His grandfather was a Baptist minister and his mother was the church's pianist, so he enjoyed music from an early age. He plays the saxophone and bass clarinet; one of the first things he and Angela learned about each other was their mutual love of jazz.
Tar Heel Basketball // Jesse and his wife Angela met at Carolina as freshmen and began dating shortly before graduation (she was a psychology major and he studied administration of justice). This basketball, signed by legendary coach Roy Williams, is part of their large collection of sports memorabilia.
Custom Clothes // Clothier Karen Hund has been Cureton's resource for years. She keeps his measurements on hand, so getting a new shirt is as easy as picking up the phone. She designed this jacket of aubergine silk velvet for Novant Health events—the rich purple is the company's signature color.