Style: Matt Yarmey of Pure Intentions Coffee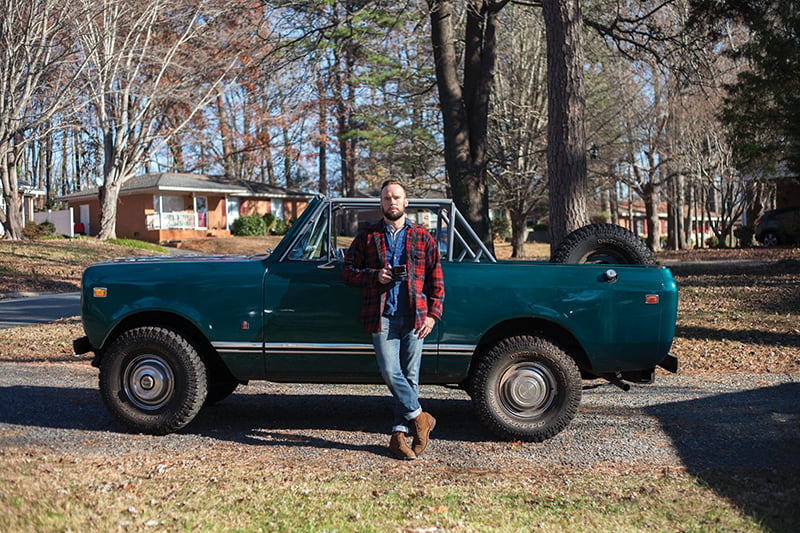 A BOLD LAVENDER TATTOO fans across Matt Yarmey's upper arm. Used in medicines by the ancient Greeks, today the lavender flower appears in everything from pound cakes to Chanel perfume. Yarmey, who owns Pure Intentions Coffee, has paired it with coffee. "I love the flavor that it imparts—we actually did a lavender-infused cold brew coffee. I love the smell. I love the color. The plant itself is very aesthetically pleasing."
He's dressed in cuffed jeans and tough Oak Street boots, made in Chicago. A form-fitting black company tee shows off his athletic build. He's making four cups of pour-over coffee, paying careful attention to temperature, steam, and aroma. A man brewing coffee, wearing boots, with a flower tattoo. Of the dozen tattoos on his body, only three were acts of impulse. He deliberated for half a year over each of the others, including the lavender.
Articulate and focused, with clear eyes and a trim beard, Yarmey, 32, stumbled into the coffee business. Unlike other things in his life—the computer and finance degree from Lehigh University, a career in New York, a move to Charlotte to work with the accounting firm Dixon Hughes Goodman—coffee happened by accident. He started roasting beans in his apartment in 2011, eventually formed his company, and five years later left his corporate job. It wasn't to build a coffee empire; it was to follow a passion. Charlotte, he thinks, is a city with potential.
"We're having conversations here now that we never would have had 10 years ago," he explains. "Honestly, that's one of the reasons I got into coffee in the first place—it's a conversation creator, it's an icebreaker." A big-picture thinker, he is a person who isn't afraid to ask, "What am I doing with my life and how will it count?" Yarmey invests in dialogue. You'll see his coffee at TEDx Charlotte events and the CreativeMornings/CLT speaker series.
If people get to know each other, exchange ideas, and listen, Yarmey thinks good things will happen. With pure intentions, anything's possible.
---
VINTAGE LEVI'S // In the 1970s, a young couple opened a secondhand clothing store near the University of Arizona. Since then, Buffalo Exchange has grown to dozens of stores, including one on Central Avenue, where Yarmey picked up this classic pair of slim-fit jeans.
---
SMALL-BATCH DOG FOOD // The fifth generation of the Fromm family still makes dog food from fresh ingredients. For his terrier, Lilly, Yarmey orders the dry mix from Four Dogs Pet Supplies in NoDa.
---
HEDGEHOG HILLS // Fonta Flora, a Morganton brewery in the western part of the state, carries this beard oil made by a husband-and-wife team in nearby Granite Falls. Applied with a dropper, it keeps Matt's beard soft with argan and jojoba oils.