STYLE: Mitch Purgason of Stitched by Mitch
He keeps NASCAR drivers, NFL players, and CEOs looking dapper in exquisite custom suits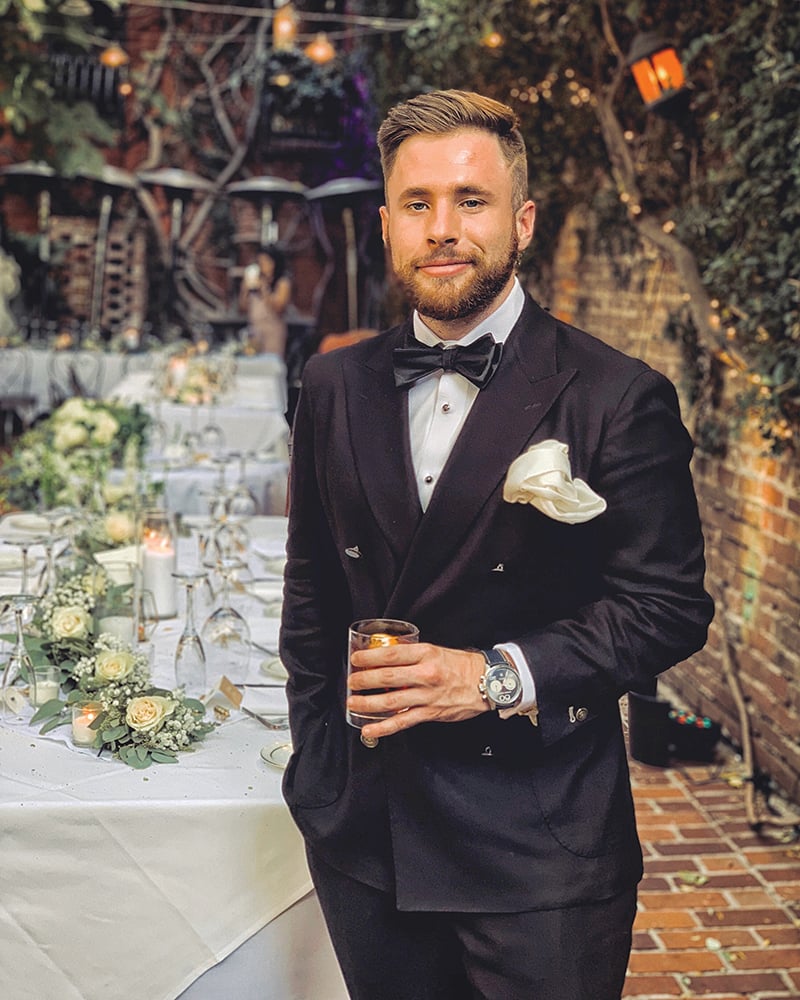 He's just 29, but Mitch Purgason's client roster already includes NFL players Christian McCaffrey, Mason Rudolph, and Josh Gordon and NASCAR driver Bubba Wallace. The Greensboro native designs custom suits under his Charlotte-based brand, Stitched by Mitch, but he doesn't want to be known as a "suit guy."
"I'm not a salesperson, and I won't relentlessly hit you up," he says. "I treat celebrities like normal people. Christian is actually a really good friend, and that's how I like to keep it. We have a mental association that we want to be the best at what we do, no matter what it is."
While many clothiers offer made-to-measure services that only alter suits, Purgason does everything "cut from scratch." "I'm my own sourcing agent and pattern builder," he says. "I measure the client, build the pattern, and tell the tailor exactly what to do so there's no disconnect. New York and LA have people who do what I do, but Charlotte didn't really have that. I loved the way Charlotte was growing, so it made sense for me to be here."
Stitched by Mitch began as an assignment at Appalachian State University, where the 5-foot-8-inch Purgason walked onto the basketball team as a junior. An entrepreneurship class required him to start a business, which inspired his initial concept: affordable custom suits for college students. He researched fabrics, fit, and presentation and contacted a tailor to help him with his first designs. "It was like an internship I created for myself," he says. "There's not a class on how to be a good entrepreneur—you've got to just try it. And that's always been my attitude: Why not?"
After he graduated in 2015, Purgason continued to design suits for former App State athletes who'd made it to the NFL. Teammates noticed their impeccably tailored suits—suede lapels, contrast stitching, and patterned liners—and word spread. Purgason built relationships with tailors in LA, New York, and Italy and added tuxedos, bomber jackets, custom jeans, and joggers to his repertoire.
His prices range from $1,995 to $3,500, and his typical turnaround time is four weeks. Purgason spends most of his time on the road meeting with clients, but he spends Mondays in his uptown loft, where he researches materials and new patterns and designs. "I try to dress to the occasion I'm designing for," he says. "If I'm designing tuxedos for a wedding party, I'll wear a tuxedo while I design that. If I'm designing a leather jacket, I'll put on jeans and my favorite leather jacket."
When the pandemic forced him to stay home last year, Purgason experimented with beachwear and custom golf attire. He recently designed a leather bomber jacket inspired by the BMW M series and made a "sick" teal Nappa leather bomber jacket for Cassi Smith (wife of Marcus Smith, president and CEO of Speedway Motorsports) to match her teal G-Wagon. "I really geek out about designing things like a bomber jacket matched to a guy's Ferrari," he says.
Purgason says he's developing a TV show with a major Hollywood celebrity he can't name; it'll give viewers an unfiltered look at the design process, he says. He's also enrolled in an online luxury fashion management course and plans to go to Italy next year to take a four-month tailoring course. "I'm always trying to improve," he says, "and you have to be willing to inconvenience yourself to grow and learn and provide a product you're really proud of."
To him, that product represents more than a suit. "It's a legacy builder," he says. "In the most important moments in our lives, we're usually wearing suits. The best photos are at weddings, parties, and events when people are dressed up. Those are the best photos you'll ever have of yourself, and they're what your kids and grandkids will have long after you're gone."