Style Q&A: The Married Team Behind Gregory Sylvia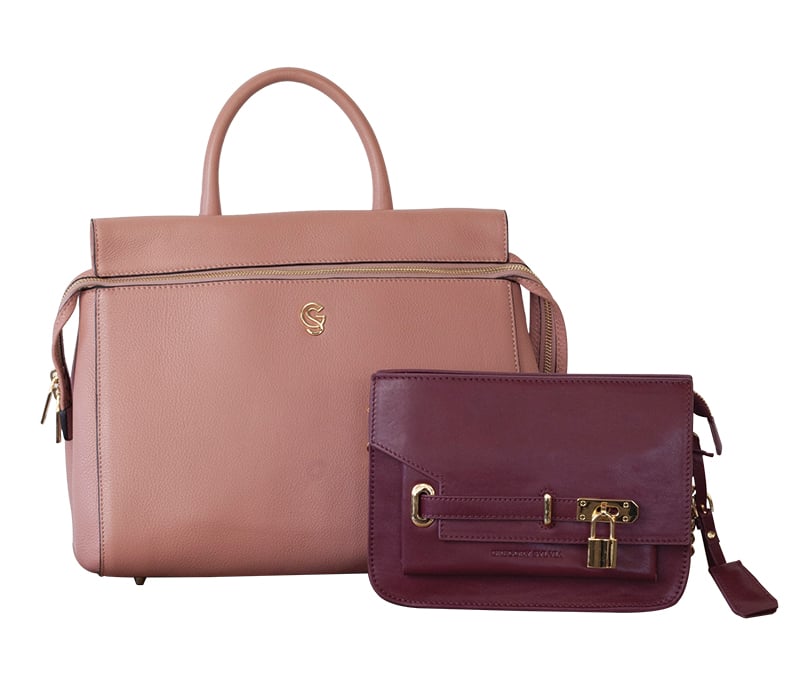 IN 2009, Greg and Terri Pope married on the campus of Queens University—he's an artist from Georgia, and she's a financial services professional from eastern North Carolina. They dreamed of owning their own business, and by the next year, they had decided on a leather handbag company. Their online business, Gregory Sylvia, is now in its sixth year.
Charlotte magazine: You made your first bags for a sorority event in San Francisco?
Terri Pope: Greg and I have always wanted to be entrepreneurs. I came to Greg with the idea of handbags—just because I like handbags—and I told him, 'Wouldn't it be cool if we did something for my sorority?' The first event we went to was July 2012 in San Francisco; it was a sorority conference, the 2012 Boulé. We had two different colors, because our sorority's are pink and green. We sold out, which was amazing. After that event, other sororities reached out to us to see if we could do bags for them, as well, so we expanded our product line.
CM: How do you come up with names for the bags?
Greg Pope: I come up with the design for the bag first, and depending on how that design looks, I come up with a name that represents the feel of the bag.
CM: What are some of the names?
GP: Agnes, Ramsey, McCarron, Devereux. As we travel back to Georgia, we go through a small community, Devereux. I liked the name; I put it in my phone and saved it, so we could use it.
CM: What are your roles in the business?
GP: I'm the right brain—so I do the creative things, the website or the logo design or the handbag designs or some of the writing, and Terri is the left brain.
TP: I went to school for accounting and finance. I always knew I wanted to own my own business, so I knew I had to understand the numbers. You know, you can make money, but you need to understand how to grow it.
CM: Not all couples can work together. When you have differences, how do you resolve them?
GP: How do we do that? I'm really sensitive about my artwork. I'm an artist, so I like all of my designs. I try to put something out there that is unique, something that's different. And sometimes for her, she just has to trust it, to see where it goes.
TP: Sometimes we'll differ on something as simple as color.
CM: That would be hard.
TP: It is. Black always sells, and the neutral colors. I like colors, the pinks and the pastels. For him, he likes to keep it simple. So really, it is a compromise. We don't make a decision if we don't agree on it. We usually wait until the next day and then say, 'OK, let's talk about it again,' and see where we are.