STYLE: The Ladies Behind Piccadilly
A mother, daughter, and daughter-in-law make "posh and playful" clothing for women and children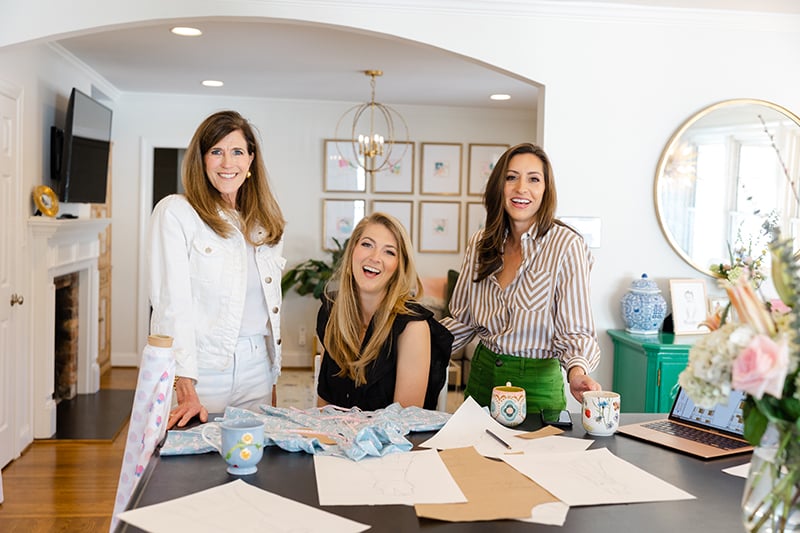 When Katherine Pugh, Courtney Hall Pugh, and Sadie Pugh Wilson completed their first collection of small-batch dresses in October 2020, it didn't take them long to land on a name. Piccadilly sounded fun and playful, but it was also a reference to the street in London's West End, near the place where it all began.
Their families first came together on a trip to England in 2013. Courtney was on vacation with her grandmother, mother, and sister when she met Katherine and her husband, Hunter. They were seated together on a bus to Oxford. "Katherine said I reminded her of her girls," Courtney says. "They were from Charlotte, and we were from Raleigh at the time."
Now, pay attention, because this could get confusing otherwise: Katherine, 60, is mother to Ben, Elizabeth, and Sadie. Katherine put Ben in touch with Courtney because he was looking at jobs in Raleigh. Ben looked Courtney up. They started texting, and 10 weeks later, they were engaged. In 2014, Courtney became Katherine's daughter-in-law.
Ben and Courtney moved back to Charlotte in 2019 and had two daughters. When the first, Haddie, was a toddler, Katherine made a dress for her. "I used a pattern from Europe," Katherine says, "but I added a big bow because we live in the South."
Haddie wore the dress constantly. During COVID, Katherine made her granddaughter another. Courtney, who worked in software sales and commercial real estate, noticed how often she got compliments on the colorful patterned dresses. She wondered if there could be a market for them in Charlotte. They started small and sold a few on Instagram. Friends and family began placing orders, but soon, they had customers beyond Charlotte.
"We wanted to put a European twist on something Southern," says Courtney, 32. "We're not trying to be Lilly Pulitzer; we like to lean toward Boden and Zara with complementing styles, but not too matchy-matchy."
After they launched their first collection, Sadie quit her job in HR to pursue art full time and help her mom and sister-in-law with Piccadilly. "Katherine had the skill, I had the vision, and Sadie wasn't intimidated by any of it," Courtney says with a laugh.
"I had a bow tie business in high school and majored in finance," Sadie adds, "so I knew I could run the business side of it."
Katherine spent her early career as a nurse, but she always loved to hand-sew dresses for her daughters. She taught Sadie, now 28, to sew at age 4. "I wanted skirts for my tea party with tulip overlays," Sadie says. "We stayed up all night to do it."
By the end of 2020, Piccadilly was at work on a second collection. Katherine could no longer hand-sew every dress they sold, so they worked with a pattern-maker who could scale Katherine's prototype to different sizes. They found a North Carolina-based manufacturer and worked with two textile designers—one in Charlotte, one in Wilmington—to create custom fabrics.
As their business grew, customers would often request Piccadilly's dresses in adult sizes, so Sadie decided to do a test run. She made a floral-patterned dress and wore it to a friend's garden party in Charleston. "Everyone stopped me and asked where I got it," she says. "We used all the prints we got for the children's collection and launched a women's collection two months later. We hit it at the perfect time. We had an explosion of interest, even women who didn't have children."
Piccadilly now releases two collections a year, for spring/summer and fall/winter. Kids' sizes range from 12 months to 5T, adults' from extra-small to extra-large. Children's clothing is between $72 and $78, and women's pieces are $150 to $250. They sell mostly through their website, but a handful of retailers, like the Beaufort Linen Co. and Charleston-based Out of Hand, carry some of their items, too.
Today, Sadie is based in Charleston, where they do Piccadilly's photo shoots (and sister Elizabeth often models for them), but she comes back to Charlotte to fulfill orders whenever they launch a collection. Katherine's garage has become their warehouse and Courtney's she-shed holds inventory. "Sometimes we'll have family dinner over here and look at samples on the kitchen counter," Courtney says. "Or we'll just have a glass of wine and package some orders."
Friends and customers often tell this trio they're crazy to work with family, and the Piccadilly team knows the dynamic they have is rare. "The fact that we can get along and do this is really endearing to me," Katherine says. "I just lost my mother, so it makes me want to cling to it a little more. It's something we can share in, and that makes it beyond just a business."
TAYLOR BOWLER is the lifestyle editor.