STYLE: The Story Behind Poppy Whitaker
Jamie Barker designs quirky, colorful apparel inspired by her daughter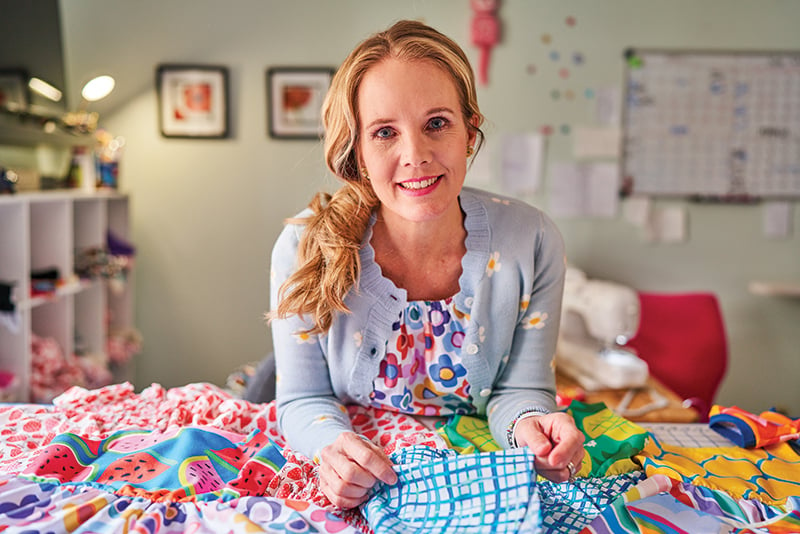 In 2011, Jamie Barker's family moved from Memphis to Charlotte in search of job opportunities for her husband. Barker grew up in Memphis and had family there to help with her three children, ages 6, 4, and 1 at the time. In Charlotte, she had to acclimate to a new city without her support network, so she gave up her job as a high school English teacher.
"But I had always worked, and I had a college degree, and something in me …" Barker pauses. "I just wanted to work," she says. "I'm sort of an entrepreneurial spirit."
Barker, now 48, has sewn since her 20s. She had more time for it after she moved to Charlotte, and she sewed for herself, her friends' children, and her youngest child and only daughter, Millie. Some moms in her neighborhood asked her to make dresses for their daughters, too, and encouraged her to open a business. She began with an Etsy shop, which she called Poppy Whitaker, the name she gave to boys in college when she didn't want to use her real one.
Most Poppy Whitaker designs are for cotton, A-line, twirl-ready dresses in sizes 18 months to girls' 14. They're colorful and quirky, some with messages like, "Extra salty," "That's a terrible idea, what time?," and "A little less conversation" screen-printed on the bodice.
Barker mixes patterns and nontraditional themes, and she doesn't assume all little girls are into rainbows and unicorns (though she certainly makes clothes for those who are). Dress themes range from STEM, outer space, and aviation to chess, music, and Star Wars. She designed a Beastie Boys-inspired dress with a birthday balloon skirt and the lyrics, "You gotta fight for your right to party." She makes each dress by hand, and no more than 100 of each design. Prices range from $58 to $68, and dresses are available online and at Charlotte Collective.
"You're not going to show up to a birthday party," she says, "where someone else has on the same dress."
Barker had no business experience before she launched, and she's spent the last decade trying to operate on a profitable but still manageable scale. Two years in, the Etsy shop fielded enough orders for Barker to move the business to its own website and hire help. By 2015, she'd hired five employees. The next year, she moved sewing operations to out-of-town factories.
It was too much for her, and the outsourcing led to a drop in the quality and distinctiveness key to the Poppy Whitaker brand. Barker downsized to one full-time employee and a few contractors in 2017 and moved sewing back to Charlotte. She still outsources screen printing but sticks to local businesses: Imago 658, a Commonwealth Park nonprofit that provides jobs to refugees, and MacFly Fresh in Camp North End.
Barker sources most of Poppy Whitaker's fabrics directly from manufacturers but occasionally designs her own, including a popular smiley-face print and a sun-and-moon print for the 2019 lunar eclipse.
Millie, now 12, continues to inspire the brand. Barker says she wore Poppy Whitaker almost daily from the time she was a year old. "I think 95% of her wardrobe was handmade by myself or friends I met doing similar work," Barker says. "She wouldn't hesitate to let people know that her clothing was female-designed or from female-owned companies."
Though she's started to outgrow some of the eccentric designs, Millie still embodies Poppy Whitaker's attitude. "She's fun, sassy, smart, and so proud," Barker says, "the aspects we highlight in our designs."