Successful Year for Sustainable Living Series
Mecklenburg County Cooperative Extension wraps up a year's worth of classes on nature, nutrition, and sustainability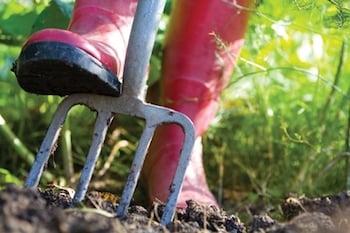 Next week marks the final classes of the year in the Sustainable Living Series put on by Mecklenburg County Cooperative Extension. The holiday-themed offerings—Green Gifts for the Holidays (November 11) and Bringing Nature Inside for the Holidays (November 12)—complete a yearlong effort by the Extension to educate community members about incorporating healthy, sustainable practices into their daily lives.
"The goal … was to take people from a place of planting and growing their own food and move them through the process of preparing and preserving," says Kristin Davis, an extension agent who focuses on family and consumer sciences and local foods. "We also wanted to instill sustainable practices, such as reducing your carbon footprint."
This series was the second year of the program, which Davis started in 2013 after recognizing that the community had a curiosity about growing and preparing food. The first year included a few classes on understanding the food system and preserving practices, such as canning. The series got a boost in its second year after partnering with the Mecklenburg Extension Master Gardeners to include more garden-specific classes, such as Garden Beauty on a Budget, Small Gardens for Small Spaces, and Time to Grow Terrific Tomatoes.
One of the keys to the program's success, Davis says, is giving the people what they want. Participants complete an evaluation at the end of each class. Nearly all of the participants said they gained some amount of knowledge from the classes. Last week, she sent out a survey to people who attended and those who didn't attend to help plan next year's lineup.
"As educators, we can make assumptions, but sometimes what I'm passionate about or have an interest in, other people might not have any interest in it or it might not help them in any way," Davis says.
Many responses asked for more hands-on courses, so next year's schedule will include weekend intensives. The longer courses will involve guiding participants through the steps of a project, such as building a raised bed. Webinars will also play a role in next year's series to increase accessibility to information.
People also expressed an interest in learning more about food preparation. So Davis plans to include more classes on what people can do with produce once they get it in the kitchen. She'll also offer some of the basic topics again, such as understanding the food system. With all of the marketing surrounding food today, it's often difficult for people to decipher terms, such as "all natural," "local," and "organic." Theses classes cover the basics and give people a foundation of knowledge to build upon.
"It raises their awareness," Davis says. "It then creates this desire to know more."