Sugar Creek Brewing set to open in Charlotte this July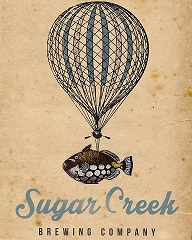 Sugar Creek Brewing is moving in to Olde Mecklenburg Brewery's current location (OMB, if you haven't heard, is relocating to a larger site) in the South End district and has plans for a July opening. This will be Charlotte's first Belgian-inspired craft brewery, according to a press release.
The new brewery will have two co-owners, Joe Vogelbacher and Eric Flanigan. Vogelbacher is a Charlotte native who was raised in a home nearby what is now the Sugar Creek Greenway (hence the name), while Flanigan was most recently involved as the general manager at Whisky River at the Epicentre in uptown Charlotte.
Via their press release, Sugar Creek's dedication will be to the "craftsmanship of fresh, high-quality beer in a style and commitment representative of Belgian's Trappist monks." Their taproom will also offer growlers to go, and there are eventual plans for distribution to local bars, bottle shops and restaurants.
Sugar Creek's Web site currently has an email list you can be added to for updates, and it has also established a Facebook and Twitter page.