Sugar Creek Brewing's official grand opening this weekend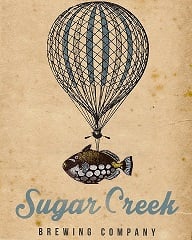 Charlotte's first Belgian-inspired brewery is set to officially open its doors this weekend, and will do so with a two-day event.
Sugar Creek Brewing, located at 215 Southside Drive (where Olde Mecklenburg Brewery used to be) will begin its grand opening festivities Friday at 4 p.m. and will continue through the next day, opening Saturday at 11 a.m.
In leading up to the event, Sugar Creek has already opened its doors over the past few weekends for test runs, and the brewery also has had its beers on tap at establishments such as Leroy Fox and Cowbell. Not surprisingly, the brewery has received huge crowds during its soft opening and I expect the same this weekend, so plan accordingly.
Since announcing they would be taking over OMB's old location in March, the Sugar Creek crew has been hard at work in transforming the space and has really done a terrific job with the layout. You can check out the finished product before the festivities this weekend by going to Sugar Creek's website.
Currently, Sugar Creek is offering four year-round beers: a Belgian Dubbel, pale ale, saison and witbier. Plans are to expand its distribution quickly to more local restaurants, bars and bottle shops, so be on the lookout for the Sugar Creek taps around Charlotte as well. And expect Sugar Creek bottles to be available in the near future.
As for this weekend's events, the brewery has 3,000 Sugar Creek glasses to give away, and there also will be a drawing to win tickets for the Charlotte Hornets home opener Oct. 29. The grand opening will feature live music as well, and Sugar Creek's food options include Belgium-inspired food such as Doner kebabs with fries. Finally, the NC Beer Guys will be on site filming, so give them a hello if you go as well.
***********
With Sugar Creek's grand opening and Good Bottle Co.'s two-year anniversary party, it's shaping up to be another busy weekend for Charlotte craft beer fans (which is never a bad thing). There are also two festivals to put on your radar for Saturday if interested: South End Hops Festival and Rocktoberfest.
The South End Hops Festival will take place on the corner of Mint and Carson Street, and is from 2 p.m. to 6 p.m. More than 20 breweries will be in attendance, including Birdsong, D9, Lenny Boy, NoDa, Olde Mecklenburg, Sugar Creek and Unknown. Tickets are $35 in advance and $40 the day of the event and include unlimited samples. You can also pay $50 for a VIP ticket, which gets you entrance into the event an hour early, along with special reserved beers. Food trucks will be on site, and the live music acts are Of Good Nature and Heroes at Last.
Rocktoberfest is the first festival being put on at Draught, which is located on South Cedar Street where Hartigan's used to be. The event, which runs from noon to 6 p.m., features live music the entire day along with 15 breweries pouring 40 beers. Traditional Oktoberfest food will also be available to purchase. Tickets are $20 in advance or $30 at the door.