Summer Fun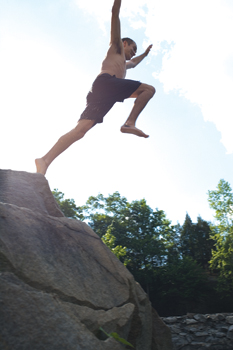 There's something about summer that just demands that we make the best of it. Plus, if you have kids, you know that you can never have enough ideas for entertainment. That's where we come in! There are 98 days between Memorial Day and Labor Day — and we have an idea for every one of them*
BY ANNIE MONJAR AND RICHARD THURMOND
KEY TO SYMBOLS: ✪ = FREE: Won't cost you a dime. ✿ = FAMILY: This one's great for you and your kids!
1 Cannonball off boulders at Carrigan Farms' quarry in Mooresville. Or dive head-first — the lake is twenty-five feet deep. The quarry is not open on weekends. Be sure to check the website or call for daily availability. 704-664-1450, carriganfarms.com
2. Document your summer merrymaking like a pro — take the Intro to Digital Photography class ($160) at the Light Factory. lightfactory.org
3. Rev your engines and take the kids to the Tuesday-night Summer Shootout Series at Charlotte Motor Speedway. There are car races on the track, but you can also expect weekly surprises, from school bus racing to a fireworks display. charlottemotorspeedway.com ✿
4. Honor the "farm to grill to fork" movement by driving out to Proffitt Family Farms in Kings Mountain and picking up a few grass-fed steaks. Open 2-7 p.m. on Fridays. 704-7516455, proffittfarms.com ✿
5. Pack some popsicles and head to the courthouse lawn in downtown Concord for the Thursday-night Union Street Live concert series. concorddowntown.com ✿ ✪
6. With multiple Yoforia and TCBY locations, a Pinkberry in the Arboretum, and now a Menchie's on East Boulevard, this summer is the perfect time for a Charlotte-wide fro-yo tour. Challenge yourself. multiple locations ✿ For the full fro-yo challenge:
Ben & Jerry's: Ben & Jerry's carries fat-free frozen yogurt, too. Fill up on flavors like black raspberry, chocolate fudge brownie, and vanilla. They're all natural, and they're as good as B&J's fattier offerings. multiple locations
Tasty Yo: Try the four flavors of this locally owned operation: original tart, blueberry accai, chocolate, and peach mango, and add a dose of syrupy drizzles and fresh fruit, nut, or candy toppings. multiple locations
Pinkberry: This is the chain that started the craze. The Phillips Place location is an evening hot spot. The original Pinkberry flavor is tart and sweet at the same time, and you can search out other fruit flavors as well as chocolate and a seasonal flavor. Then load on the toppings to make your own fro-yo creation. pinkberry.com
7. Head over to The Green to catch the Charlotte Shakespeare Festival's free production of Moliere's Tartuffe on Wednesday through Saturday nights, June 2-19. If you show up an hour early, you'll get the best spot and see a performance from a local performing artist. collaborativeartstheatre.com ✪
8.
Get the best view in the city on a hot-air balloon ride with Balloons over Charlotte. 704-896-5241,
balloonsovercharlotte.com
9. Lace up and journey to the western highlands for the Braveheart 5K on June 18, at the Taste of Scotland Festival in Franklin. Treat yourself afterward to an early afternoon pint of Scottish Ale from Heinzelmännchen Brewery. tasteofscotlandfestival.org
10 A concert series at NC Music Factory offers a great spot to mingle with music — catch Vertical Horizon and Tonic this month. ncmusicfactory.com
11. The cremesicle cocktail at Soul Gastrolounge is the perfect mix of childhood nostalgia and grown-up indulgence. Pair with a spicy Soul Roll and call it a well-earned night out. soulgastrolounge.com
12. Take your spirit of adventure and head to Rock Hill for the new Canaan Zipline Canopy Tour — a three-hour tour of the Catawba River area that includes trail hikes, hanging bridges, and no fewer than nine different zip lines. canaanzipline.com
13. Catch Annie Hall at the Mint Museum uptown on June 14 as part of the Music & Movies at the Mint series. mintmuseum.org
14. There are sheep, cows, and goats just waiting for a friendly visitor at Dan Nichols Park's Petting Barn in Salisbury. dannichols.net ✿ ✪
15. Try to grab a patio spot at the River's Edge Bar & Grill during one of the park's Thursday-night Whitewater River Jam concerts — because a concert and a brew are both better with a view. usnwc.org
16. He may be performing on a Wednesday, but in the words of Wiz Kalifa himself, "live it up like it's the weekend." Catch the Pittsburgh rapper on June 15 when he rolls up to Time Warner Cable uptown Amphitheatre. livenation.com
17. There's no better place to enjoy a book and some bird watching than a shady spot by the rose bushes in Myers Park's historic Wing Haven Gardens and Bird Sanctuary. winghavengardens.com ✿ ✪
18. Make your own maki at Cooking uptown's sushi-making class on June 25. Hurry — spots sell fast! cookinguptown.com
19. Charlotte's favorite family-friendly 4th of July festival, Presbyterian Hospital July Fourth Spectacular, is back at Memorial Stadium this year with threelegged races, tug-of-war games, and, of course, fireworks at Independence Park. findyourcenter.com
20 With a mat and the right pair of stretch pants, any garden can be a den of Zen. Sign up for a Thursday-night yoga class at Daniel Stowe Botanical Gardens. dsbg.org
21. Taylor Swift at Time Warner Cable Arena on July 8. Make your teenager jealous (and maybe a little embarrassed) by getting your tickets before she does. ticketmaster.com ✿
22. Spark some movie-style romance with a two-hour sunset trail ride at Latta Equestrian Center — dinner included! lattaequestriancenter.com
23. Are you still hoping that hair bands get hot again? Looking for nothin' but a good time? This night's for you: Mötley Crüe, Poison, and New York Dolls play Verizon on July 12. livenation.com
24. Go for a bike ride on the lush, shady Mallard Creek Greenway (and the adjacent Clark's Creek path). At just over seven miles, it's the longest bike path in Charlotte. Parking available at Mallard Creek Elementary School, 9729 Mallard Creek Rd., charmeck.org ✪ More bike-riding suggestions:
McAlpine Park Greenway: For an easier (and breezier) ride, hit the McAlpine Park Greenway. Great for beginners, the four-mile south Charlotte trail touts a small lake and 188 species of birds. It's also a seasonal cross-country course for high school and college-level runners. Main parking available off Monroe Road; charmeck.org
Renaissance Park: This mountain biking course features two moderately difficult loops (seven miles combined). An inclined gravel road and a few log jumps complete the course. 1200 W. Tyvola Rd., 704-529-1827
Campbell Creek Greenway: For a delightful duo of sport and scenery, scoot down Campbell Creek Greenway's four-mile trail, which is part paved, part gravel, and borders a headwater tributary that links it to McAlpine Greenway. Parking available off Margaret Wallace Road or the McAlpine Creek Greenway headquarters (off Monroe Road); charmeck.org
25. Get tickets for Next to Normal, at the Knight Theater July 12-17. It's a dramatic, emotionally charged new musical about a … well, not normal family trying to keep it together. carolinatix.org
26. Head into Vintner Wine Market in the Arboretum and ask for a seasonal draft. Snag a spot on the patio. Drink. Repeat. vintnerwinemarketnc.com
27. Another round of Charlotte Restaurant Week is scheduled for July 15-24. Sounds like the perfect excuse to try a new dinner spot. Not that you needed one. charlotterestaurantweek.com
28. Embrace Tar Heel terroir with a trip to Winston-Salem's RayLen Vineyards, where a $10 tasting gets you sips of all sixteen of their wines. The countryside is free. raylenvineyards.com
For more on area vineyards: www.charlottemagazine.com/summerfun
29. Sometimes, spending another second in blasting AC is even worse than the humidity outside. Pack the kids' beach towels and head out to Dilworth Spraypark for a cooling splash or three. charmeck.org ✿ ✪